How Much New Material Joss Whedon's Justice League Reshoots Added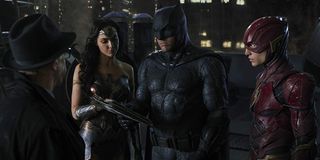 Everybody seems to be preoccupied with Zack Snyder's supposed original vision of Justice League. It's one of the most sought after alternate cuts these days, and we can see where the "What if" comes in to talk of the Snyder Cut. However, there's something else that deserves to be discussed, and it's the work that director Joss Whedon did to complete and refurbish the finished product's narrative into a finished product. Well, to answer your question of "How much new material are we talking?" the answer is simple: 80 script pages worth.
A recent report detailing -- you guessed it -- the recent fan movement to #ReleaseTheSnyderCut, talked not only of the recent social media campaign and its aim to see Snyder's original Justice League released to the public, but also of the long, hard road Warner Bros went down to make sure the film could meet its planned 2017 release date.
Most notably mentioned in this item from The New York Times was the eventual hiring of former Marvel Cinematic Universe collaborator Joss Whedon, and the fact that The Avengers' 2012 success was the big reason that he was asked to jump on board Justice League. Once Zack Snyder resigned from directing the film, due to a personal tragedy, Warner Bros. wanted someone to lighten the mood and alter DC's cinematic team-up into a product closer to what the MCU had been doing for some time.
That's where those 80 pages of new script material came from, the contents of which were described in the article as additional jokes added to lighten the tone of Justice League, as well as more scenes for Diane Lane and Amy Adams as their characters from Man of Steel were holdovers that didn't get much to do in the original cut. Perhaps the most distinct change though was the deletion of Kirsey Clemons' Iris West from the film, which definitely came from Whedon's scaling back on the role of Ezra Miller's Flash. And if you're wondering whether Joss Whedon was behind Ray Fisher's Cyborg having a reduced presence as well, you're absolutely correct in that assumption.
For all the new work that Joss Whedon brought to the table with his rewrites and reshoots, I can see just where the fabled "Snyder Cut" starts to differ from the finished "Whedon Cut" of Justice League that audiences saw in theaters. As fans have always known, The Flash and Cyborg, two figures who were supposed to play so prominently in the DC Extended Universe lineup, were given a reduced role when compared to how their respective stories were talked up in pre-release.
The evidence to that effect keeps piling up every passing day, as Zack Snyder himself has continued to post stills that stoke the fires of the movement to release his unfettered Justice League vision. Surely enough, one of those deleted scenes between Ezra Miller's Flash and Clemons' Iris West was one of the most recent additions to that collection. Which, of course, is on top of the footage still left in the various trailers to Justice League, as well as some incomplete scenes that are floating around on the internet.
Whether we get "The Snyder Cut" of Justice League or not remains to be seen, as all of the activity surrounding that particular subject has its prospects in an undefined state. Some say the film's ready to go, others claim to have seen it, and there's even those that say the film would require a substantial amount of time and money to complete for the public.
There's no single answer for whether or not that mythical version of Justice League truly exists. But what is known is that director Joss Whedon's cut of Justice League, 80 pages of additions and all, is unquestionably finished.. Should you want to revisit it, it's ready for you to view on digital HD and physical media home video.
CinemaBlend's James Bond (expert). Also versed in Large Scale Aggressors, time travel, and Guillermo del Toro. He fights for The User.
Your Daily Blend of Entertainment News
Thank you for signing up to CinemaBlend. You will receive a verification email shortly.
There was a problem. Please refresh the page and try again.