Justice League Star Ray Fisher Retracts Any Support He Gave To Joss Whedon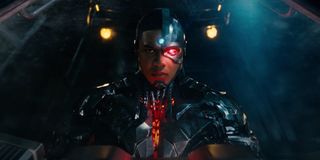 It's no secret that Justice League, the fifth DC Extended Universe entry, faced a troubled production process, not the least of which included director Zack Snyder having to exit the project following principal photography, and Joss Whedon coming in to guide the movie to completion, which included extensive rewrites and reshoots. While Cyborg actor Ray Fisher was initially supportive of Whedon coming in to steer the Justice League ship on the rest of its journey, over two years and a half years after the movie's release, he's retracted that support.
Ray Fisher made his abundantly feelings clear with the below Twitter post that included a video of him alongside his costar Jason Momoa, a.k.a. the DCEU's Aquaman, as them and the rest of the Justice League cast promoted the superhero movie at the 2017 San Diego Comic-Con. Take a look:
Wow, Ray Fisher's really not mincing any words! Whether the actor truly felt at the time that Joss Whedon was a good filmmaker to take the Justice League reins, or if he was keeping the feelings he's now expressed openly to himself, he doesn't have any issue making his dissatisfaction with Whedon's work on Justice League public. Judging by the look on Jason Momoa's face, I wouldn't be surprised if he was already feeling how Fisher feels now.
Of course, anyone who follows Ray Fisher on social media or reads his comments to the press was almost certainly already aware that he wasn't pleased with how Justice League's theatrical cut turned out. In addition to repeatedly praising Zack Snyder, Fisher has been one of the most vocal supporters of the Snyder Cut, i.e. a better reflection of Snyder's original vision for Batman, Wonder Woman, Aquaman, Flash, Cyborg and Superman coming together in the DCEU.
Whether you like Justice League's theatrical cut or not, there's no question that what was shown on the big screens in late 2017 differed drastically from how the movie was originally going to look. Joss Whedon reportedly wrote around 80 script pages worth of new material, and Fabian Wagner, Justice League's director of photography, estimated that only 10% of what Zack Snyder shot was included in the final product. The movie was ultimately received with mixed-to-negative reviews, and it underwhelmed at the box office.
Fortunately for those of you who've been wanted to see the Snyder Cut, it was announced last month that it's headed to HBO Max next year, with upwards of $30 million being spent to put the thing together. And on the off chance you liked the version of Justice League that was shown in theaters, it's among the DC movies that are sticking around HBO Max until the end of the year rather than be removed in a few days.
As for Ray Fisher, while the Snyder Cut will significantly flesh out Cyborg's story, there's no word on if/when he'll get to play the tech-based superhero again. A Cyborg solo movie was once slated to come out this past April, but obviously that never happened, and there's been no indication if Warner Bros and DC are still interested in making the project happen or are content to let it sit on the proverbial shelf.
Zack Snyder's Justice League is expected to drop on HBO Max in early to mid-2021, so keep checking back with CinemaBlend for more updates. In the meantime, keep track of other DC movies that are on the way with our comprehensive guide.
Connoisseur of Marvel, DC, Star Wars, John Wick, MonsterVerse and Doctor Who lore. He's aware he looks like Harry Potter and Clark Kent.
Your Daily Blend of Entertainment News
Thank you for signing up to CinemaBlend. You will receive a verification email shortly.
There was a problem. Please refresh the page and try again.