4 Marvel Comics We Hope Black Panther 2 Draws From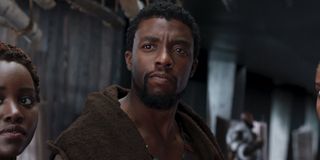 The Marvel Cinematic Universe has a terrifically exciting slate of films and television shows set to be released in the next few years, but arguably no project on that list is more highly anticipated than the arrival of director Ryan Coogler's Black Panther 2. After all, its predecessor managed to become the highest-grossing non-Avengers title in the franchise when it came out in February 2018, and there exists remarkable potential story-wise for the future of the eponymous hero and the nation of Wakanda on the big screen. For fans, the 2022 sequel can't get here soon enough.
Unfortunately at this point in time there are no real details available about Black Panther 2 and what it will be about – but what's positive to focus on for now is that there is plenty of material in the comics that would make for excellent source material. So while we continue to wait for official word regarding what the plot of the upcoming blockbuster is actually going to be, we figured we'd take a look back at some particular books and imagine what the sequel could be if the project were to look to draw from them.
Fantastic Four #52–53
Let's start with the big swing, shall we? In the near future, one of the biggest moves that the Marvel Cinematic Universe is going to make is to introduce the Fantastic Four – something that they can do now following the completion of the Disney-Fox merger. Naturally, there has been a lot of debate among fans regarding exactly how that should be accomplished (should they be given a standard origin story as a new team? Maybe they've been lost in the cosmos for decades?), but one idea that should at least be placed on the table is the possibility of introducing them in Black Panther 2.
Not only is Ryan Coogler a more than talented enough as a filmmaker to be given such a challenging assignment, but there would be a kind of cosmic poetry to the idea. After all, it was in Fantastic Four comics – specifically 1966's Fantastic Four #52 – that Stan Lee and Jack Kirby introduced the world to Black Panther as a character, with the Vibranium-clad hero inviting Marvel's First Family on a trip to Wakanda. Plot elements would certainly have to change, as that particular story saw T'Challa attacking the group as a way of testing his own abilities before taking on his arch-nemesis, Ulysses Klaw (who is notably now dead in the MCU), but it's a place to start.
Black Panther Vol. 3 #1-12
In the making of the first Black Panther movie, one of the key runs of the comics that was used for inspiration was the third volume of the character's solo series penned by writer Christopher Priest. It was in the pages of that book that readers were first introduced to characters like Nakia, Okoye, Zuri, and Everett Ross, and certain details were also used for the Erik Killmonger storyline. That being said, the series ran for more than 60 issues, meaning that there is a lot of content that hasn't been explored yet, and it could definitely be good material for Black Panther 2.
Now that the Marvel Cinematic Universe is recovering from the events of Avengers: Endgame, T'Challa will finally have the opportunity to kick start his plan to open Wakanda up to the world, and that very much should include a lot of travel as a diplomat – which is a big part in the early issues of Christopher Priest's Black Panther run, as the king has Everett Ross as his Washington D.C. envoy. While this is happening in the comics, an uprising begins back at home led by the dangerously psychotic Reverend Achebe, forcing T'Challa to reckon with the balance in his responsibilities to both his country and the rest of the globe. It's material that can both move the central character forward, and provide the film franchise with a seriously freaky villain.
Secret Invasion
When it was announced a few years back that the Skrulls would be making their live-action debut in Captain Marvel, thoughts of the crossover event Secret Invasion sprang into the minds of fans everywhere. In short, the storyline has the heroes of the world discover that Earth has been quietly infiltrated by shapeshifting aliens who wish to assume control, and what results is a tension-filled drama that has characters unable to fully trust those to whom they are closest. It's great material that could make for great big screen entertainment – and Black Panther 2 could be a cool launching place for the plot on the big screen.
If powerful aliens were to start secretly invading Earth, it would make sense that they would start by focusing a fair amount of their energy on a region overloaded with exclusive and powerful resources, right? And not only would it make sense for the Skrulls to start in Wakanda because of their Vibranium cache, there is a tremendous opportunity that exists there for great emotional drama because of the close familial bond between the central protagonists and key supporting characters – something that is special about Black Panther compared to the various other stories in the MCU.
Rise Of The Black Panther
T'Challa being both the king of his own country and also a powerful globe-trotting costumed hero makes him presently stand out as unique within the Marvel Cinematic Universe, but in the comics there exists another character who deals with similar circumstances: Namor The Submariner, the King of Atlantis. Dealing with similar issues but also regularly having diametrically different points of view, they have an interesting relationship in the comics, and Black Panther 2 could be a fascinating vehicle for them together.
In 2018, writer Evan Narcisse and artist Paul Renaud published a new miniseries titled Rise Of The Black Panther, a secret origin story, and while there isn't a great need to see the majority of that content brought to the big screen in the Ryan Coogler-directed sequel, the complicated and conflict-filled relationship that exists in the second issue between T'Challa and Namor is material worthy of exploration on the big screen. There admittedly does exist a question of legality, as it's not quite clear what the behind-the-scenes issues with Namor are given that Marvel sold the movie rights to the character many years back, but if he's available to use, Black Panther 2 could be a good fit.
What do you think of these suggestions as potential inspirations for the plot of Black Panther 2? Do you think that they could work? Or is there other material from the comics that you'd like to see the project tackle instead? Hit the comments section with all of your thoughts, feelings, and opinions on the matter, and be sure to continue staying tuned here on CinemaBlend, as we are keeping a sharp look-out for all of the latest details regarding the Ryan Coogler-directed sequel, and will continue to write about news and updates as we get closer and closer to its production and release!
Your Daily Blend of Entertainment News
Assistant Managing Editor
NJ native who calls LA home and lives in a Dreamatorium. A decade-plus CinemaBlend veteran who is endlessly enthusiastic about the career he's dreamt of since seventh grade.