With Disney And Fox's Merger Official, What Happens To These X-Men Movies?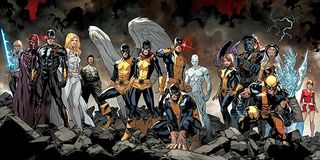 Well folks, it's officially official, Disney's purchase of 21st Century Fox and all its properties is complete, meaning that the X-Men have returned home and now belong under the same corporate umbrella as the heroes of the Marvel Cinematic Universe. Naturally this now begins a fan countdown to some unknown future date when we see the mutants standing across from the Avengers on the big screen.
That reportedly won't happen until 2021 at the earliest, but the X-Men will not remain completely stagnant from now until then. This June brings what will presumably be the last of Fox's mainline X-Men films with Dark Phoenix; and The New Mutants is supposed to arrive this year, but when and where it arrives are open questions. Nevertheless, those aren't the only two mutant properties that Fox was working on when it came across a particularly hungry mouse named Mickey.
Fox was developing multiple X-Men movies, some for quite a while, in an effort to continue to broaden the universe, but with everything now owned by Disney, there is an open question as to what will happen with those titles or whether they will get scrapped entirely. Read on as we look at some of the X-Men movies that were in development and talk out what could happen to them.
Gambit
Gambit has been in development for years with Channing Tatum set to star as the ragin' Cajun. Given Tatum's involvement, Gambit seemed like a priority among the X-Men projects and at one point was expected to have a $150 million budget. It always seemed like Gambit was getting close to production, only to never escape development hell. Over the years Gambit has gone through multiple directors, starting with Rise of the Planet of the Apes' Rupert Wyatt, then Edge of Tomorrow's Doug Liman, then Pirates of the Caribbean's Gore Verbinski.
The film was, at different points, a mutant mob movie, and according to Simon Kinberg, something with elements of a romantic comedy. As of last year, Gambit was set to film in February and was schedule for release this June. That didn't happen and that won't happen. With a serious case of director curse, earlier this year we heard that Channing Tatum might want to helm the movie himself. So what happens now?
Late last year Simon Kinberg said that like the rest of the X-Men movies, Fox was continuing to work on Gambit prior to the closure of the Disney deal. That said, this project has had nothing but problems. With Channing Tatum's interest, Disney may still want to keep him on board, but the film would probably undergo some changes. Gambit is a fan favorite character and Disney will want to take advantage of that and maybe even have Tatum play the character in an ensemble X-Men film in the MCU. I expect Gambit to show up eventually, but when, in what capacity and who will be playing him are unclear for now.
X-23
In Fox's 19-year history making X-Men movies, 2017's Oscar-nominated Logan stands among the very best. That film introduced Dafne Keen's Laura, codename X-23, a ferocious mini-Wolverine who seemed poised to take the mantle from Hugh Jackman's iconic hero.
For a brief time it seemed like that was the idea. Fox had interest in a possible spinoff solo film starring the character and Logan director James Mangold talked about the possibility and what such a film would be about. However, talk of this film has been quiet for a while and it seems extremely unlikely that solo film will still happen given its seemingly nascent stage of development. If it wasn't dead before, it may be a casualty of the Disney deal.
That's not to say the character, if not Dafne Keen, could make her way to the MCU someday. Hugh Jackman left massive shoes to fill and Marvel could opt to go a different route and introduce X-23 first to put more distance between whoever plays Weapon X next and the actor who so defined the role on screen.
Kitty Pryde
One of the most curious X-Men films Fox was working on is one we first heard about a little over a year ago. Deadpool director Tim Miller was set to helm a mystery project called 143 with Marvel Comics legend Brian Michael Bendis set to write the script. We later learned that 143 was a reference to Uncanny X-Men 143, a story that focused on Kitty Pryde A.K.A. Shadowcat as she fought off a demon while alone in the X-Mansion on Christmas.
Given the talent involved and the small scale story, this project sounded really cool and different than what we've seen before in this universe. We don't know exactly where the Kitty Pryde movie stands now. Tim Miller is in post-production on Terminator: Dark Fate and could presumably tackle 143 after. Back in February, Bendis said that he was still working on the script and he seemed excited about it, but it should be noted this was before the closure of the Disney-Fox deal.
Like the rest of the X-Men films outside of Deadpool, 143 is up in the air at the moment. It doesn't seem like it would fit with Disney's big MCU type approach to superhero films, but we don't know what the plans are for the X-Men or Phase 4, so that could change. Honestly, with the MCU content coming to Disney+, this sounds like a perfect project for that service, or Hulu, if it works with Disney's plans.
X-Force
The success of the first Deadpool opened up a whole new world of possibility. That possibility began to be realized with Deadpool 2. That film partially setup a future R-rated X-Force movie from Drew Goddard. We know that Deadpool himself will be making the jump to Disney, although not necessarily the MCU. Disney is in the business of making money and the Merc with a Mouth makes a lot of it.
So, Deadpool is safe, he's even on Disney's website and he will remain rated R. As for his superteam, their future is less certain. Deadpool and X-Force co-creator Rob Liefeld recently said that the X-Force movie has been cancelled, a victim of the Disney-Fox deal. But, Rob Liefeld is not necessarily an authority on what is going on in the executive offices of Disney, so he could be wrong.
If Disney is keeping Deadpool and its rating, I don't know what the justification would be for cancelling X-Force, unless Disney just wanted to take time to figure out what the plan is with Deadpool, how it will be branded and such. I wouldn't rule out an X-Force movie down the line, though, because if Disney is in the Deadpool business, X-Force would provide some variety beyond Deadpool 3. And Drew Goddard did just ink a new deal with Disney.
Multiple Man
In late 2017, we heard that Fox was developing a Multiple Man movie with Simon Kinberg producing and James Franco set to star as the mutant with cloning abilities. Wonder Woman writer Allan Heinberg was set to write the script for the film.
We haven't heard much since that announcement other than Simon Kinberg mentioning that the script was being worked on about six months ago. But Simon Kinberg has always been very savvy in this whole Disney-Fox deal, basically saying that everything is still happening and in the works. With the Disney-Fox deal now closed, that may no longer prove true.
This is just speculation based on the most recently available information about these projects. The truth is, we don't have access to a Cerebro and there are far more questions than answers when it comes to the future of the X-Men and many properties now that they are under the Disney banner. The X-Men are destined for the MCU at some point, so whether it is these films or not, mutant lovers will have plenty to look forward to.
For movies you can look forward to this year, check out our 2019 Release Schedule.
Your Daily Blend of Entertainment News
Nick grew up in Maryland has degrees in Film Studies and Communications. His life goal is to walk the earth, meet people and get into adventures. He's also still looking for The Adventures of Pete and Pete season 3 on DVD if anyone has a lead.