Hamilton: 7 Great Things We Got From The Movie That The Soundtrack Couldn't Show Us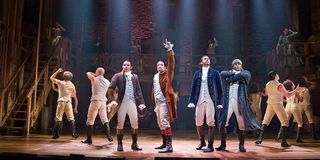 (Image credit: (Disney))
The hot ticket over 4th of July weekend was indisputably a Disney+ account, as tons of audiences tuned into the filmed version of the most talked about Broadway show in recent memory, Hamilton. There's multiple experiences the movie could elicit depending on the viewers' history with it or lack thereof. If you were in the room where it happens when Lin-Manuel Miranda actually played Hamilton (first of all: how?) it must be like reliving a beautiful memory. If you saw the touring production or later cast, it serves as a great way to see the show in a new way. But hey, where's my soundtrack listeners at?
Whether you were waiting for the prices to drop, to get picked for that insane lottery or it never quite reached your city at the right time, before this movie dropped Hamilton just wasn't nearly as accessible. Myself included, many of us went into Hamilton knowing the songs from the musical but blind to the breathtaking visuals that happen on stage. Now that we've finally experienced it, let's talk about what we took away from the play after having the lyrics in our ears for years.
How The Costumes Inform The Characters In Hamilton
First off, those Hamilton costumes!! Sure we'd seen stills of the various characters in their on-stage attire over the years or maybe with the Tony performance way back when. However, there's a complete difference when we see how the wardrobe affects the presentation. The attention to detail in the wardrobe department is top notch, especially when it comes to having their dress reflect their changing ages or rotating roles. For one, Daveed Diggs' second-act character of Thomas Jefferson wears a glorious purple getup inspired by Prince to show the Founding Father's rock-star-like portrayal. And when Hamilton moves on to wearing green in the second act it symbolizes his turn to the first Secretary of Treasury.
Anthony Ramos Being The Official Hype Man Of Hamilton
Ahead of the actor's leading role in Lin-Manuel's first musical In The Heights which will have a grand big-screen treatment next summer, we were treated to Anthony Ramos' role in Hamilton. Turns out he's a huge standout in the show as John Laurens and Philip Hamilton. Ramos is one of the most energetic and charismatic presences of the cast, first as a close friend to Alexander and then as the son of his. He comes on strong as soon as he makes his way on the stage for the opening number, and now we're infinitely more excited for his starring role In The Heights.
Jonathan Groff's Spitting Image Of King George
An instant reaction to Hamilton that hit the internet as soon as the musical premiered on Disney+ was Jonathan Groff's performance as King George. While we definitely weren't expecting all that high-definition spitting from the Frozen actor, fans of the soundtrack had no idea just how incredible his entrances to sing "You'll Be Back," "What Comes Next" and "I Know Him" would be. I personally imagined Groff to perform the moments kind of cartoony and goofy, but he shows up as this stuffy, well-adorned king with moments of snarky comedic timing in between. He's a subtly perfect touch to the play and somehow makes moments such as his background dancing fit right in to the show.
The Choreographed Time Rewind During Satisfied
Ahead of my Hamilton watch, you may have been just as excited as I was to gain some clarity on the love triangle between Alexander and two of the Schuyler Sisters as illustrated between soundtrack favorites "Helpless" and "Satisfied." It's easy to tell within the tracks one sister is heartbroken by the other's relationship with Lin-Manuel Miranda's leading role, but wow does the actual scene deliver.
It expertly does something I've never seen staged before: rewinding time and shifting perspectives. It starts with Eliza's moment of happiness as she falls for Hamilton with "Helpless" ending with her wedding. Then it cuts to Angelica's toast in "Satisfied" where she thinks back to her own first moments with Hamilton. It's one of the most spine-chilling touches of the production!
Leslie Odom Jr's Physical Performance Matches His Powerhouse Voice
Leslie Odom Jr's vocal performance in songs such as "Wait For It" and "The Room Where It Happens" were already impressive for listeners of the soundtrack, but I feel as if I truly gained the scope of his talent now. It's as if we were appreciating Leslie Odom Jr with one hand tied behind our backs for years. As Hamilton's disputed villain of Aaron Burr, there's so much more he brings to the show that we'll never get over. He's much more human than we expected and watching their chemistry unfold is a highlight. Odom's show-stopping dance choreography in "The Room Where It Happens" where he leaps as a tablecloth is removed from under him is particularly memorable too.
The Covert Character Known As The Bullet
Another element of Hamilton we could not have appreciated in the soundtrack is one ensemble character known as "The Bullet." At the end of the musical when Alexander is shot in his duel with Aaron Burr, you may have noticed Ariana DeBose's character takes hold of the bullet as the moment pauses. With a closer look, DeBose is a prominent member of the ensemble throughout Hamilton. Before each character dies, "The Bullet" briefly interacts with them and has a part to play in what leads to their demise. For example, she talks to Philip Hamilton about where he finds the man that later leads to his death.
Eliza Hamilton's Gasp Into The Fourth Wall
A final moment we didn't take in until watching Hamilton on Disney+ was a gasp from Phillipa Soo's Eliza at the finale of the show. It's not something the soundtrack captures and I'm personally thankful I had no idea the choice existed until experiencing the show, because the moment has a beautiful power to it after watching Eliza's character arc play out. The gasp is ultimately up to one's own interpretation, but many fans have theorized she is seeing the audience who now see her and Hamilton's story and are in awe of how her actions paid off.
We loved Hamilton before via the music, but watching the show cements its status as a cultural phenomenon. I don't know about you, but I find myself listening to the soundtrack even more now and with completely new ears to the context of the material. Sign up for a Disney+ account here and check out what else is coming to the streaming service this month.
Your Daily Blend of Entertainment News
YA genre tribute. Horror May Queen. Word webslinger. All her writing should be read in Sarah Connor's Terminator 2 voice over.