Wonder Woman 1984's Patty Jenkins Teases The Sequel's 'Amazon Olympics'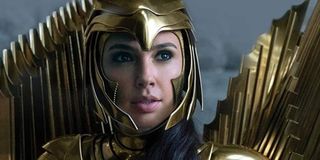 Since Diana Prince can't return to her home country of Themyscira, most of Wonder Woman 1984 will focus on Wonder Woman's adventures in '80s America. However, according to director Patty Jenkins, we'll still catch some glimpses of the mythical all-female island in the form of flashbacks and the "Amazon Olympics."
Patty Jenkins recently sat down with Empire to talk about her upcoming movie, Wonder Woman 1984. One of the things that came up was the annual Amazon Olympics, where the inhabitants of Themyscira compete to see who is the best. Here's what Patty Jenkins had to say about it:
It's great to hear we're still going to see Themyscira again, even though it's doubtful Wonder Woman will. Themyscira, of course, is a big part of Diane Prince's character. So, hopefully, those flashbacks to Themyscira will continue to expand and develop Wonder Woman's character arc.
If you recall, in the first Wonder Woman movie, Diana Prince is raised by female warriors in the peaceful realm of Themyscira. Since they fear the threat of invasion, these warriors are constantly training. This also explains why Diana Prince is such a good fighter. Eventually, she leaves the island to help Steve Trevor fight in World War I in Europe.
Despite seeing Gal Gadot's Wonder Woman fight in the modern day in Batman v Superman: Dawn of Justice and Justice League, Wonder Woman 1984 takes the character back in time once again. This time, according to Patty Jenkins, they wanted to place Wonder Woman in a time that her character is synonymous with but also a time when western civilization was at its height.
Even though Diana Prince will be far removed from her homeland of Themyscira, there are signs that she may still draw her strength from the island in some form. In a trailer, we got to see Wonder Woman wearing the Golden Eagle Armor, which we have to assume she got from Themyscira. Perhaps the Golden Eagle Armor is a trophy of sorts for the warrior who triumphs in the Amazon Olympics? I guess we'll just have to wait and see for ourselves when the movie eventually releases.
Wonder Woman 1984 is scheduled to debut on October 2, 2020. So, set your calendars DC fans, and be sure to stay tuned for more news as it lands.
Your Daily Blend of Entertainment News