Why Wonder Woman Is Set During World War I, According To Patty Jenkins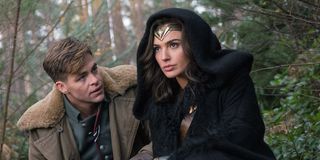 Even though superhero movies are starting to branch out into other kinds of narratives and genres, and that includes a few period pieces here and there. Recent examples include Captain America: The First Avenger and and the "First Class" trilogy of X-Men movies. Next year, Wonder Woman will go even further back than those movies by placing Diana of Themyscira in the late 1910s as World War I is still raging. According to director Patty Jenkins, the reason for the World War I setting is to provide a contrast between the way Diana grew up seeing the world and how outside society really was during this era. Jenkins explained:
Along with providing an exclusive image of Wonder Woman charging through a battlefield, Empire talked with Patty Jenkins about the World War I setting, where she laid out how since the movie will show Diana's first time venturing into the outside world, it was important to place her in an environment where she would see firsthand the horrors that humanity is capable of. Since World War I was the first of its kind, that was the best setting to shock Diana in Wonder Woman, who grew up on Themyscira among female warriors, but has only ever known living in a peaceful society until now.
Earlier Wonder Woman movie scripts placed Diana in World War II, i.e. the same time period she was introduced in the comics and when the first season of the Wonder Woman TV series took place. However, World War I was also an ugly and horrifying conflict in its own ways, from the trench warfare to the mustard gas. This is also a conflict that isn't as explored often in cinema, so that should help make Wonder Woman feel unique, not to mention effectively open the Amazon's eyes as to how dark this world can be.
Although comic book fans are familiar with Wonder Woman's long life in her various iterations, regular moviegoers learned about how well Diana ages earlier this year in Batman v Superman: Dawn of Justice, when Bruce Wayne came across a photo of her, Steve Trevor and other soldiers in 1918 on Lex Luthor's metahuman files. Nearly 100 years later, she looks exactly the same. While Justice League will pick up on Wonder Woman's present day adventures, her solo movie will chart her journey from Themyscira to Europe as she tries to end this global devastation, which will eventually bring her into conflict with Danny Huston's still-unidentified villainous character (who we believe to be Ares).
Wonder Woman hits theaters on June 2, 2017.
Connoisseur of Marvel, DC, Star Wars, John Wick, MonsterVerse and Doctor Who lore. He's aware he looks like Harry Potter and Clark Kent.
Your Daily Blend of Entertainment News
Thank you for signing up to CinemaBlend. You will receive a verification email shortly.
There was a problem. Please refresh the page and try again.