Russell Crowe's Contributions To The Gladiator Script Have Been 'Greatly Exaggerated,' According To The Movie's Producer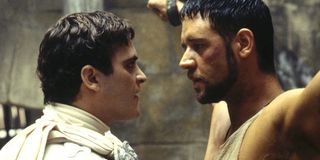 It's amazing what sort of stories have taken flight in the history of certain classic and well-remembered movies, including films like director Ridley Scott's 2000 classic Gladiator. Previously, we discussed how there were news reports from back in the day that stated a prequel was allegedly once in the works in order to keep Russell Crowe's Maximus around for another bout of strength and honor. Now, just as Douglas Wick had debunked those very rumors in our recent interview, the Gladiator producer has another rumor he wants to debunk, and it all has to do with Russell Crowe and his supposed contributions to the film's script.
While preparing for my talk with Mr. Wick, celebrating the Gladiator's reissue on 4K UHD Steelbook, I stumbled upon an interesting quote from the initial phases of promotion for the 2000 film. As it turns out, while detailing the film's production phase, an unnamed Dreamworks executive had told Time Magazine that Russell Crowe had "tried to rewrite the entire script on the spot" when he stepped onto the scene for his Academy Award-winning performance as Maximus Decimus Meridius.
Reading this suggestion, as well as some of Crowe's own comments over time on how the film's script was in horrific shape, and some specific contributions he mentioned as his own, an urban legend started to take shape. Russell Crowe could have been seen as a secret co-writer to Gladiator, a film that helped make him who he is today. But that legend, according to Douglas Wick, isn't exactly true, and he laid out exactly what really happened as follows:
While there may not have been any sort of major rewriting of Gladiator's script by Russell Crowe, there were definitely some additions he brought to his character, which squares with what Crowe recently said about trusting Ridley Scott's vision, as well as fits in with what Douglas Wick told me. Thus it would seem the contributions that Crowe has been documented as adding aren't full on revisions to the script written by David Franzoni, John Logan, and William Nicholson, though he is likely responsible for turning the character into a movie icon.
From Crowe's own recollection during a 2004 interview on on Inside The Actor's Studio, Crowe helped demystify those earlier comments from that unknown Dreamworks executive himself. During his time with James Lipton, Russell Crowe described how with only 32 pages to go off of in the beginning, there was some room for some personal touches. Touches, in his own past remembrance, that were a product of the following sort of creative process:
In that instance, Gladiator starts to sound like it had the same issues that Iron Man did back in its own production history. Much as Jon Favreau and his actors pushed ahead to make that experience a memorable kickstart to the Marvel Cinematic Universe, Russell Crowe and all involved seemed to make their lack of a completed script work in their favor. Another addition that was apparently borne from this process was the speech that Crowe's Maximus gives about missing his farm, with soil colored like his wife's hair. That particular story was drawn from an EW article from the original push to promote Gladiator, and also found its way into an essay entitled "Gladiator and Contemporary American Society," in which it was stated that Russell Crowe wrote that speech himself, thinking of his own home and wife that he missed at the time.
In the end, the works of David Franzoni, John Logan, and William Nicholson made Gladiator's script the finished product that it is today. While Douglas Wick dispelled the notion that Russell Crowe had made major overhauls on the film's story, there are some touches in the finished product the actor can call his own. That just goes to show that the collaborative process of making a gigantic sword and sandals epic, in an era that didn't know it wanted such a film, can truly make something that echoes through cinematic eternity. You can revisit the action for yourself, as Gladiator is currently available in a 4K UHD Steelbook release, as well as through Digital HD, Blu-ray, and DVD.
Your Daily Blend of Entertainment News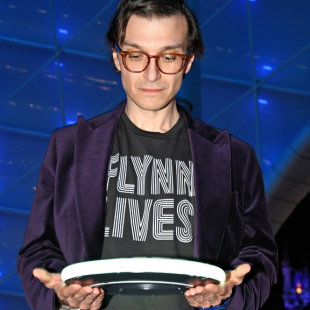 Senior Movies Contributor
CinemaBlend's James Bond (expert). Also versed in Large Scale Aggressors, time travel, and Guillermo del Toro. He fights for The User.