Star Wars' Harrison Ford And Star Trek's Patrick Stewart Share A Birthday And I Can't Get Enough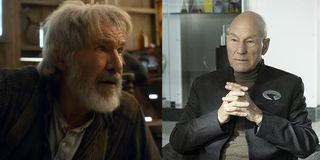 Every Star Wars and Star Trek fan knows there's always been a war between the two franchises. Now, however, it looks like something may bring them all together. Today, I learned Harrison Ford and Patrick Stewart share a birthday today. And I can't get enough of this mind blowing information.
Yes, that's right. Today on July 13, both Captain Han Solo and Jean-Luc Picard celebrate a birthday-- with Harrison Ford turning 78 and Patrick Stewart turning 80. As such, Star Wars co-star Mark Hamill sent Harrison Ford a happy birthday message on Twitter:
Shortly after Mark Hamill posted his message, a fan responded to it saying that it's also his friend Patrick Stewart's birthday as well. Check it out:
This revelation that these two acting titans, involved in two of the biggest science fiction franchises in the world, could share a birthday is blowing many collective minds right now. Some have even wondered why such a momentous occasion doesn't have its own national holiday yet. Hey, if Star Wars can have its own day, why not Ford-Stewart Day?
Obviously, this fan isn't the only one that wants a holiday. This Harrison Ford and Patrick Stewart fan concurs. Make it so!
As one can imagine, both Harrison Ford and Patrick Stewart have been acting for some time. Early in his career, Patrick Stewart did a number of TV mini-series and movies. In the mid-80s, he played a number of supporting characters in movies and even appeared as Gurney Halleck in David Lynch's Dune before his big break as Jean-Luc Picard in Star Trek: The Next Generation.
Harrison Ford, of course, got his big break in Star Wars: A New Hope as the rogue Captain Han Solo. But, before that, he also had minor roles in movies like American Graffitiand The Conversation. Harrison Ford would later bring another iconic character to life in Indiana Jones, which this fan brings to the forefront:
Believe it or not, despite both actors being in opposing franchises and coming from different acting backgrounds, they also have a few similarities. For one, the actors have some of the most iconic pointer fingers in the industry. It's well known Harrison Ford likes to point at stuff when he's angry. Patrick Stewart, on the other hand, just points when he's ready to engage.
Recently, both actors also have returned to reprise their famous roles of Han Solo and Jean-Luc Picard respectively. Harrison Ford returned one more time as Han Solo in Star Wars: The Force Awakens, where he met an unfortunate end. And, Patrick Stewart recently hopped back into playing Jean-Luc Picard in the new TV show Star Trek: Picard.
Even though Harrison Ford and Patrick Stewart have reached well passed retirement age, they aren't showing any signs of slowing down. As I mentioned earlier, Patrick Stewart is busy with Star Trek: Picard. Harrison Ford recently appeared in The Call of the Wild and is set to play Indiana Jones again in Indiana Jones 5.
Happy Birthday, Harrison Ford and Patrick Stewart!
Your Daily Blend of Entertainment News
Your Daily Blend of Entertainment News
Thank you for signing up to CinemaBlend. You will receive a verification email shortly.
There was a problem. Please refresh the page and try again.