The Rivalry Between Star Trek And Star Wars Just Landed Someone In Jail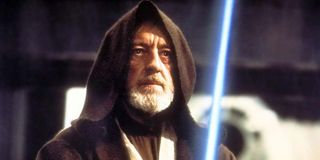 Within the overarching geek landscape, there are a few debates that may never come to an end. Whether it is Marvel vs. DC, or Sega vs. Nintendo, some classic arguments invoke incredibly passionate responses from both sides of the aisle. However, one of the most intense geek debates of all time is the never ending battle between the Star Wars and Star Trek fandoms. These arguments tend to be relatively peaceful, but a recent feud between two men over the properties has apparently led to an assault and an arrest.
According to a recent report from FOX 25 News in Oklahoma City, a man has been arrested for assaulting someone following a debate over the two science fiction universes. Jerome Dewayne Whyte was in the midst of an argument over the pop culture touchstones when he allegedly shoved the victim to the ground. A scuffle ensued and Whyte then reportedly put his the victim in a chokehold; from there, Whyte was kept at bay when the victim pulled out a pocket knife and cut his hand. It's an insanely bizarre situation. And before you ask: no, we do not know which side Whyte was on in the argument.
Of course, now seems like a suitable time to double down on the fact that there really is no definitive answer to this debate. Despite the fact that Star Wars and Star Trek fans have spent decades debating the merits of each fictional universe, the fact of the matter is that there is no clear cut winner between the two of them; it's entirely subjective. While Star Trek is firmly rooted in the world of science fiction, Star Wars is a franchise that borrows from numerous different genres and maintains a stronger emphasis on fantasy storytelling. Both franchises feature space ships and the word "Star" in their respective titles, but comparing them side by side is an incredibly difficult (and borderline futile) process.
Another significant difference between Star Trek and Star Wars is the fact that each of them seems fundamentally designed for a different medium. Sure, both universes have produced television series and movies, but Star Trek is essentially a TV-based universe, while Star Wars is more at home on the silver screen than anywhere else -- particularly with The Last Jedi set to debut later this year. If people are actually getting stabbed over arguments between these two worlds, then it might be time for us to take a step back and reevaluate why we even bother trying to compare them in the first place.
CinemaBlend will bring you more information related Star Wars and Star Trek as news from both fictional universes becomes available to us. For now, make sure to take a look at our 2017 movie premiere guide for more information related to the rest of this year's most highly anticipated silver screen debuts!
Originally from Connecticut, Conner grew up in San Diego and graduated from Chapman University in 2014. He now lives in Los Angeles working in and around the entertainment industry and can mostly be found binging horror movies and chugging coffee.