Jamie Foxx Knows Playing Mike Tyson Is Controversial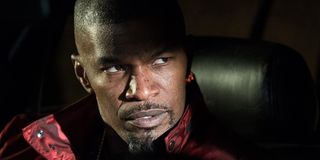 It's no secret Mike Tyson is a controversial figure. The heavyweight boxing champion was convicted of rape in 1992 and released on parole after three years in prison. He also has had a controversial and ferocious fighting style in the boxing ring. Still, Jamie Foxx has gone into the Mike Tyson biopic project with eyes wide open and knows playing the boxer is controversial.
With a new trailer for Jamie Foxx's Netflix movie Project Power landing online, the actor recently spoke with EW about it, among other things, including his work on the Mike Tyson biopic. Foxx admits Mike Tyson is a controversial figure, but here's what he had to say about that:
At this point, there's scant information about what the Mike Tyson biopic will be about, but I have to imagine it will involve most of his boxing career intertwined with his personal life. Later when talking with EW, Jamie Foxx said the biopic will also address Tyson's relationship with his wife, Kiki, as well as who saved Tyson from the demons inside and outside of his life.
The Mike Tyson biopic, which will be called Finding Mike, has been floating around for some time. Back in 2014, Mike Tyson said he and Jamie Foxx had been talking about the project, with a plan kick off within a year to 18 months from that date. At one point, there was also talk of Martin Scorsese being attached to direct.
The project seemed to go dark for a while, though. That is, until Jamie Foxx took to his Instagram account back in June to show off his new muscles. With Jamie Foxx hitting the weights to transform into Mike Tyson, it started to look like the project might happen sooner rather than later.
Jamie Foxx, of course, hasn't been one to shy away from controversy. Back when he starred in Django Unchained as the titular character, a controversy at the time was how often the movie threw around offensive racial slurs so often. But Jamie Foxx said he was okay with the language when he read the script because that was the way it was back in that time.
More recently, Jamie Foxx came to the defense of Jimmy Fallon, who had been accused of blackface in an old SNL sketch where he impersonated Chris Rock. Jamie Foxx told Jimmy Fallon he doesn't have to apologize.
It's unknown at this time when production will start on Finding Mike or when it will be released. Still, since Jamie Foxx has been hitting the weights, it feels very likely filming could happen anytime. As always, stay tuned to Cinema Blend for all the latest movie news.
Your Daily Blend of Entertainment News
Thank you for signing up to CinemaBlend. You will receive a verification email shortly.
There was a problem. Please refresh the page and try again.