9 Movies That Had To Work Around An Actor's Death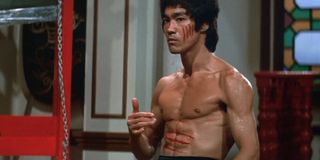 Death is never an easy thing, especially when it's unexpected. That's almost always the case with a movie loses an actor or actress, and oftentimes a death during production can lead to changes that alter the way movies move forward.
The following are some of the more famous cases in which productions had to deal with an actor's death, and how it impacted the movies. To be clear, these aren't all the times an actor or actress has died while a film is in production, and no offense is meant to any names left on or off the list.
Gladiator
Actor Oliver Reed passed away while filming for Gladiator, and in quite an odd way. While the movie was filming in Malta, Reed, a known alcoholic, challenged some sailors to a drinking competition and died in the bar after having a disputed amount of drinks. Director Ridley Scott has said it was a couple of pints, but other publications have said Reed consumed eight pints, in addition to several shots of various liquors. In either case, some of Reed's scenes as Proximo had to be finished with CGI and body doubles. The result, surprisingly, is phenomenal for the technology available in 2000.
Furious 7
Furious 7 decided to halt production for multiple reasons when star Paul Walker died in a car accident, both to grieve and rethink the movie. Up to that point, Walker had played been one of the central characters of the franchise, and with so many key scenes left to shoot, James Wan and writer Chris Morgan opted to change the focus of Brian's direction to becoming a family man. The subplot gave the writers the perfect send off to Brian O'Connor, as well as a tasteful tribute to Walker in light of his death.
Plan 9 From Outer Space
Unlike a vast majority of the entries on this list, Bela Lugosi's scenes for Plan 9 From Outer Space were shot before his death. The weird part here is that Plan 9 From Outer Space didn't exist when those scenes were shot, and director Ed Wood worked a compilation of random scenes he had filmed with the actor into the script. In doing so, Wood was able to promote the movie as Lugosi's last movie and attracted bigger names to Plan 9 From Outer Space as well. However, Wood still needed additional scenes for Lugosi's character when filming got underway, so he brought in his wife's chiropractor (a man with no acting experience and was taller than Lugosi) as a stand-in.
The Imaginarium Of Doctor Parnassus
Director Terry Gilliam assumed The Imaginarium Of Doctor Parnassus was done for when he received word of Heath Ledger's death, mainly because Ledger's appearance was tied to much of the film's funding. Once production resumed, Gilliam was able to finish the movie with a new idea that Ledger's character would change appearance across realities, and with the help of actors with a connection to Ledger: Johnny Depp, Jude Law and Colin Farrell. Gilliam had no shortage of actors who wanted to stand in for Ledger, but he had to turn away folks like Tom Cruise because he felt it wrong to include those who hadn't personally known the actor.
Game Of Death
Bruce Lee's Game Of Death is a unique situation, in that Robert Clouse's version was a revamped version of a Hong Kong film that Lee was in the process of making when he died. The movie used footage of Lee's original version, but had revamped other parts in which Lee's intentions for the plot were unclear or to accommodate the fact he wasn't around for reshoots. Body doubles and a cardboard cutout of Lee's face were used to try and create the magic of bringing the actor back to life on screen, but even by the late '70s effects standards, the attempt is pretty shoddy.
The Hunger Games: Mockingjay Part 2
Philip Seymour Hoffman tragically passed away with just a week left of filming in The Hunger Games: Mockingjay Part 2. While most of his scenes between Part 1 and 2 were filmed, there were still a couple of major scenes from his character that had not been finished. Originally it was announced the movie would attempt to digitize Hoffman, but those on the production later changed their mind. Instead, Plutarch's final conversation with Katniss was read by Haymitch in the form of a letter.
The Crow
Brandon Lee, son of Bruce Lee, sadly suffered the same fate as his father by dying amidst the production of a Hollywood feature. The Crow star had only three days left of filming and was shooting the flashback scene in which Eric is first killed. Unfortunately, the gun was not properly checked, and due to circumstances that had happened in previous fires, there was a discharge that struck Lee in the abdomen similar to if an actual bullet hit him. He died later in surgery, and the movie was completed with the use of CGI and his stunt double.
Brainstorm
Brainstorm was already in trouble at the time of Natalie Wood's death, and with that news, MGM attempted to shut down the movie completely. The movie would eventually release with Wood's sister stepping in as a body double, though Brainstorm did not generally get good reviews. The legacy of Wood's death has somewhat outlived the legacy of the movie, with the circumstances behind her death considered a mystery to this day. Wood passed away after drowning on a yacht with her husband Robert Wagner and Brainstorm co-star Christopher Walken.
Twilight Zone: The Movie
The death of actor Vic Morrow and two child actors, Myca Dinh Le and Renee Shin-Yi Chen, has lived on as a catastrophic failure of Hollywood safety procedures. The actor and the children were killed when a helicopter spun out of control thanks to pyrotechnic explosions that were placed too close together. The accident resulted in an investigation and trial, and dissolved the relationship between directors John Landis and Steven Spielberg. Landis and the crew were ultimately acquitted of manslaughter charges for the accident, though Landis was admonished for circumventing child labor laws that would've otherwise guaranteed the children would not have been in the scene. Twilight Zone: The Movie was still released, and the segment with Morrow's story was changed to have a different ending than what was intended.
Continue to stick with CinemaBlend for all the latest news happening in movies and television, especially as productions continue to change dates and deal with halts in production.
Your Daily Blend of Entertainment News
Mick likes good television, but also reality television. He grew up on Star Wars, DC, Marvel, and pro wrestling and loves to discuss and dissect most of it. He's been writing online for over a decade and never dreamed he'd be in the position he is today.