Watch A 5-Year-Old Amazingly Recreate Bruce Lee's Fight Scene From Game Of Death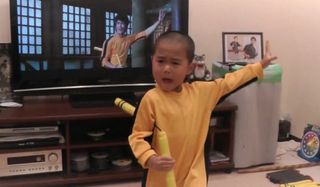 We all have those films that we saw as children and stuck with us through our lives. For this kid, it looks like The Game of Death is his. Five-year-old Ryusei from Japan is so captivated by Bruce Lee and his martial arts moves in the film that he decided to recreate one of its most famous moments: the nunchaku fight. Watch him pull it off with spectacular stamina.
The Game of Death may not be one of Lee's most critically acclaimed films, but it's one of his most famous, especially because of scenes like this one. Not many people can replicate the exquisite movements of this renowned actor, but Ryusei picked them up pretty quickly and is fast becoming the next big Internet sensation.
The video, posted by his father, has been featured everywhere from blogs in Japan to ABC News, and rightfully so. Ryusei is seen in a matching yellow tracksuit and yellow nunchaku, and he perfectly executes all the moves from Lee's scene. As proof, he performs the martial arts routine while the film is playing out behind him. There are many incredible moments, but nothing is more badass than this lil' tyke's epic side step. He's like the reincarnation of the legendary movie star.
Ryusei even has his own Facebook page, which is run by his dad. He's constantly posting updates of his son. It's crazy to think that a father would let his 5-year-old learn how to wield nunchaku, but the craziest thing is that Ryusei has been learning to master this weapon at an even younger age. His dad posted a video of him practicing his skills in front of the TV at 4. Though his skills aren't as polished as they are now, it's still incredible to watch.
It's also a bit non-traditional to let a child so young watch enough Bruce Lee movies to the point where he becomes obsessed with the actor. But, hey, we all have our own unique parenting styles, and molding his son into a lethal, nunchaku-wielding martial arts master is this father's.
Your Daily Blend of Entertainment News