Johnny Depp's Former Security Guard Reveals He's Basically Jack Sparrow All The Time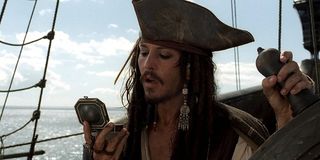 Johnny Depp has long been known as an eccentric actor who likes to push creative boundaries. From Edward Scissorhands to Pirates of the Caribbean, some of his best and most memorable characters seem to be born from his love and devotion to acting. As it so happens, Depp's former security guard said he's so committed that on the set of a Pirates of the Caribbean movie, he was basically Jack Sparrow all the time.
Rick Wood was hired back in 2015 to be Johnny Depp and Amber Heard's security guard while they were in Australia. At the time, Johnny Depp was filming the fifth Pirates of the Caribbean movie, Dead Men Tell No Tales. According to 9News Queensland, Rick Wood got to see Johnny Depp's performance first hand. Here's what he had to say:
Rick Wood's statement about "who's a wife-beater and who's not" points to the ongoing drama between Johnny Depp and ex-wife Amber Heard. Johnny Depp filed a libel lawsuit in the U.K. against The Sun, which published an article with allegations by Amber Heard, calling the actor a "wife-beater." Johnny Depp's defense is that he was never violent towards the actress.
Putting all that to the side, let's talk a bit more about Johnny Depp's method acting. His former security guard revealing he is "Jack Sparrow all the time" isn't entirely surprising. After all, it's one of his most popular roles, and the actor is even known for keeping a Captain Jack Sparrow costume on him at all times.
Due to Jack Sparrow's popularity, many now associate him with the infamous pirate, even though he's played several memorable roles in the past, like Cry-Baby, Ed Wood and Ichabod Crane.
Still, it seems like after Pirates of the Caribbean, Johnny Depp slipped more into doing unconventional roles. In some of his roles, the actor is totally unrecognizable. Though many of these characters are arguably over the top and a little silly, like his unique portrayal of Willy Wonka in Charlie and the Chocolate Factory, they're memorable all the same and seem to point to his commitment to character.
Back in 2018, Johnny Depp talked a bit about how to act and gave some elementary acting advice for anyone wanting to be an actor. But he also said something that might point to his method acting. He said that "the most difficult part about acting is just to be—to be in a state of being."
Of course, for Johnny Depp, that state of being sometimes requires a ridiculous amount of makeup and dressing in eccentric costumes, something the actor seems to enjoy. For more movie news, stay tuned to CinemaBlend.
Your Daily Blend of Entertainment News