That Time Quantum Of Solace's Bond Woman Competed With Gal Gadot For The Role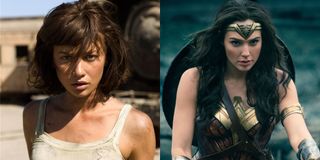 Competing for a lead role in the James Bond franchise isn't just a contest to see who gets to be the next 007 in the tuxedo. With iconic characters like M, Q and Moneypenny all getting periodic refreshes themselves, the cast of this storied espionage series has a lot of openings that need careful, deliberate casting. But perhaps even more important than those roles is the casting of the position now known as the "Bond Woman." The person who will be accompanying James on his journey is a position of chemistry, and as of late is pretty demanding stunt work. And believe it or not, Olga Kurylenko and Gal Gadot were both late stage contenders for the role of Camille in 2008's Quantum of Solace.
That particular story was one of a couple I was able to hear from Olga herself, as she was promoting Shudder's original film The Room, and I was given the opportunity to speak with her about that new chilling thriller first hand. However, I couldn't let the opportunity to bring up her work in director Marc Forster's underrated James Bond movie pass, and I was curious what the audition process was like for Olga Kurylenko when she tried out for the role. According to a report from Premiere in 2008, there were roughly 400 women who auditioned for the role of Camille, the Bolivian operative with a very personal score to settle in Quantum of Solace. Thanks to Olga Kurylenko herself, the details of the rigorous audition process can now be told. She recalled her overall experience as follows.
Through the course of three auditions, Olga Kurylenko had gone to two different cities and performed as Camille for three different sets of watchful audiences. Apparently she was absolutely calm and collected during those auditions, despite the fact that she was keeping her actual case of nerves close to the vest. Kurylenko's resolve worked in her favor, and by time she got to that final audition with Daniel Craig, the field was narrowed down to four women vying for the role. One of them was Kurylenko herself, who at that time only knew of one other person who was in the final stage of running:
That's still a pretty impressive pairing to have in your final round of auditions. Keep in mind, Olga Kurylenko had already done Fox's Hitman at this point, and this was only a short time before Gal Gadot would make her big Hollywood debut as Giselle Yashar in 2009's Fast & Furious. So either way, a star's career was about to be kicked into overdrive. But how exactly did things break in Ms. Kurylenko's favor?
Well, on top of her assassin-like skills as an actor, one of her other competitors happened to drop out of the running for Quantum of Solace's impressive Bond Woman on their own volition. As it turns out, it was reported that Gal Gadot felt that she wasn't ready to work with a full English script at that point in her career, and on top of that, considered herself "too serious" to be an actor at that point. Seeing as she was studying law and international relations at that point in her life, one could see that point panning out.
The rest of the story became 007 history, as Olga Kurylenko would be cast as Camille, undergo a rigourous stunt training regimen and eventually find herself becoming a woman of action in various films throughout the rest of her career. Which only makes the fact that she and Gal Gadot would compete for the role of Wonder Woman all the more amusing, with Gadot gaining the upper hand this time around. It's all just one big merry-go-round, isn't it?
With fate panning out how it did, Olga Kurylenko's casting in Quantum of Solace changed her career for good. As she has gone on to experiment in all sorts of genres and material in the decade-plus gap between her time as Camille, and today, Kurylenko remembers her time in the series fondly. And to think that if history had played out a little differently, we might have seen a very different Wonder Woman as a result, and Gal Gadot might have seen her star rise a little earlier. The Room is currently streaming on Shudder, and is also available on Digital HD and DVD. Also, Quantum of Solace is available for streaming on HBO Max at the moment, with Hulu and Netflix adding the film to their libraries as of August 31.
Your Daily Blend of Entertainment News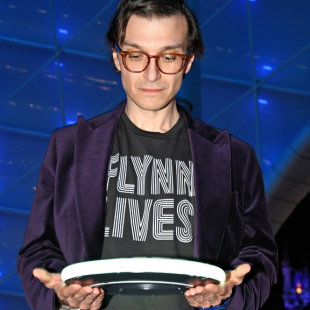 Senior Movies Contributor
CinemaBlend's James Bond (expert). Also versed in Large Scale Aggressors, time travel, and Guillermo del Toro. He fights for The User.