After Playing Elton John, Taron Egerton Is Heading To Another Biopic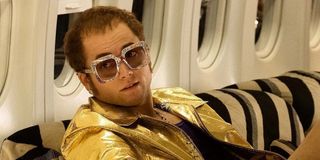 Taron Egerton won widespread praise and a Golden Globe for his portrayal of Elton John in last year's Rocketman. Now, he's taking another real life role, albeit one that's a bit less of a household name, in a new biopic.
To be fair, the subject matter of the upcoming film is definitely enough to grab moviegoers attention. Titled Tetris, it tells the story of a Cold War-era legal battle that took place surrounding the intellectual property for the legendary video game. Taron Egerton will play Henk Rogers, who eventually won the rights to Tetris for himself and the man who originally created the game, who spent years fighting several different parties before he ended up getting paid.
At first glance, a movie about a legal battle over a video game might not sound like the most thrilling. However, it sounds like Tetris could be a really captivating movie -- not only does it involve a lesser-known story about a well-known entity, but it seems like there's some political and legal issues wrapped up in the film that could up the ante on the drama.
Another thing Tetris has going for it is that it's definitely a unique premise, at least as far as biopics are concerned. There have been plenty of movies based on video games, including this year's surprise hit Sonic the Hedgehog and the long-awaited Uncharted. However, there haven't been all that many that delve into the behind-the-scenes aspects of how many of our most beloved video games have come into being. Which, when you think about it, is kind of surprising, since the video game industry is one of the most successful in history and likely full of some pretty dramatic stories. Maybe if Tetris is a hit, it will inspire a new wave of video game biopics.
It's definitely possible that Taron Egerton could help make Tetris a box office success, too. His role will likely be much different than his role in Rocketman -- at the very least, it will require less singing. But we know Taron Egerton is capable of carrying a high-stakes story, thanks to his work in movies like Legend and Kingsman: The Secret Service. Before Tetris hits theaters, he will also lend his voice to Sing 2, once again portraying Johnny. That film is currently due to hit theaters in 2021.
Tetris, which will be directed by Jon S. Baird. It's currently in pre-production and slated to begin filming in September. However, it does not have a release date scheduled yet. There's no word yet on who will join Taron Egerton in the cast.
Do you think Tetris sounds interesting? Will you be checking it out when it hits theaters? Let us know in the comments!
Your Daily Blend of Entertainment News