How Tetris Plans To Become The Next Massive Sci-Fi Franchise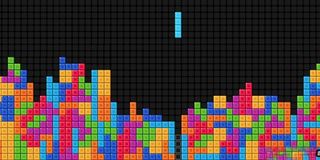 News that a studio wants to turn Tetris into the next science fiction blockbuster have met many fans with confusion, but make no mistake, these guys are completely serious. They really think that Tetris is going to be huge, so big in fact, that it's going to require three movies to tell the whole story.
It was crazy enough when we heard that an "epic sci-fi thriller" based on the Tetris video game was going to cost $80 million to produce. But much like a game of Tetris that refuses to drop that one straight piece, this story is now getting a little out of hand. Empire sat down with producer Larry Kasanoff, who confirmed that Tetris is not planned to be a single movie, but, in fact, a trilogy. It's ok, though, because it totally needs to be.
Good movies can be made out of any concept. There's nothing that is inherently impossible to make into a good movie. However, there are certain ideas that are easier to turn into good movies than others. Tetris would seem to fall into the category of films that are much harder to make good movies out of. The game is literally just about dropping blocks in a row. It's difficult enough to turn video games that are steeped in lore into solid films. Doing so with a game that has zero lore, that doesn't have so much as a plot, seems a bit more complicated.
We'll say this for producer Larry Kasanoff though, the man is not without confidence. He absolutely understands what it sounds like when he says Tetris will be a trilogy, and stands up at this early stage and says they're not just stretching the movie out for the sake of it. He also completely understands what the words "Tetris movie" sound like, and he swears the idea for the film is much more than that.
So, Tetris will be a "sci-fi thriller" about creating order out of chaos. It's a start. Kasanoff swears that nobody has been able to guess anything about the film will be about, and he doesn't seem to expect that anybody will. Keeping the plan a secret is certainly one strategy. If you can get enough people curious, that can go a long way to building buzz for your film. Of course, when the big reveal finally comes, it has to live up to the hype.
Content Producer/Theme Park Beat
CinemaBlend's resident theme park junkie and amateur Disney historian. Armchair Imagineer. Epcot Stan. Future Club 33 Member.
Your Daily Blend of Entertainment News
Thank you for signing up to CinemaBlend. You will receive a verification email shortly.
There was a problem. Please refresh the page and try again.