What The Rocketman Cast Is Doing Now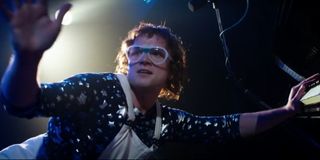 The Elton John biopic Rocketman was easily one of the best films of 2019. I could write an entire book on how Taron Egerton not receiving an Oscar nomination for this role was one of the Academy's biggest crimes in recent history. Did they not see how much Taron gave to that role? He was robbed of his moment to shine at the Oscars, but his supporting cast also deserved more recognition as well. Rocketman's supporting cast includes Jamie Bell (also really needed a best supporting nomination), Bryce Dallas Howard, and Richard Madden.
Even if the Academy decided to snub Rocketman and the cast in most of the major categories, it doesn't take away from the film's success and brilliance. Most of Rocketman's cast are accomplished and rising stars with pretty impressive current and future role credits. They will continue to build their resumes with entertaining, thought provoking, and award deserving roles.
Taron Egerton (Elton John)
In Rocketman, Taron Egerton plays the lead role of the musical legend Elton John. It's really a film that relies heavily on Egerton's performance to carry it through, and he more than succeeds. After Rocketman, he voiced a character named Rian in The Dark Crystal: Age of Resistance, the continuation series of Jim Henson's classic. Egerton also provided the voice for Moomintroll in the series Moominvalley.
Taron Egerton plans to continue his voiceover work by returning to the world of Sing and reprising his role as Johnny in the sequel. Sing 2 is now scheduled for a December 22, 2021 release. Egerton joins an all-star cast that includes James McAvoy and Michael Sheen in the audible production of Neil Gaiman's graphic novel The Sandman. The first part of the multiple parts drama launches on July 15, 2020. Taron Egerton is also rumored to be in-talk to play Seymour in the Little Shops of Horror remake.
Jamie Bell (Bernie Taupin)
Jamie Bell plays Elton's life long platonic partner and collaborator Bernie Taupin. Bell co-stars alongside Michael B. Jordan, Jodie Turner-Smith, and Luke Mitchell in Without Remorse, an adaptation of Tom Clancy's novel of the same name. It's about a U.S Navy SEAL who seeks vengeance after his girlfriend is murdered. The film is scheduled for an October 2, 2020 release.
Jamie Bell voices the character of Danny in the animated film Cranston Academy: Monster Zone. The film is about a 15 year old who accidentally opens a portal with monsters from another dimension. Cranston Academy: Monster Zone was released in Portugal in March 2020.
Richard Madden (John Reid)
Well known for playing Robb Stark on HBO's Game of Thrones, Richard Madden plays Elton's former lover and manager John Reid in Rocketman. He's essentially the movie's biggest villain, besides Elton's parents of course. Also in 2019, Madden had a small role in the Oscar nominated film 1917. He plays Joseph Blake, the brother of one of the main protagonists Lance Corporal Blake (Dean-Charles Chapman).
Richard Madden then signed on to join the Marvel Universe in The Eternals. He plays Ikaris and co-stars with Gemma Chan, Kumail Nanjiani, Kit Harington, and Angelina Jolie. The Eternals is set to hit theaters on February 12, 2021. In 2020, Madden signed on to co-star in the Amazon series Citadel, opposite Priyanka Chopra.
Bryce Dallas Howard (Sheila Dwight)
Bryce Dallas Howard plays Elton John's very cold, brutal mother Sheila Dwight. After Rocketman, Bryce Dallas Howard followed in her famous father's footsteps by taking the director's seat in a few projects. She directed The Mandalorian episode 4, "Chapter 4: Sanctuary."
Bryce Dallas Howard also directed a documentary called Dads, which she helmed alongside her father,Ron Howard. It explores contemporary fatherhood, and includes celebrity appearances by Will Smith, Jimmy Fallon, Neil Patrick Harris, and others. It's set to premiere on Apple+ on June 19, 2020. She's also set to reprise her role as Claire Dearing in Jurassic World: Dominion.The film is currently set for a June 11, 2021 release.
Gemma Jones (Ivy)
Gemma Jones plays Ivy in Rocketman. She's Elton's grandmother and one of the few kind people in his life. Jones will appear in the romantic drama starring Kate Winslet and Saoirse Ronan Ammonite. She plays a character called Molly Anning. In 2019, Gemma Jones played Aunt Anne Lister in Gentleman Jack, and she is set to appear in the British comedy-drama Cold Feet.
Steven Mackintosh (Stanley Dwight)
Steven Mackintosh plays Elton's equally, if not colder, father Stanley Dwight. Mackintosh appears in the film The Postcard Killings. Jeffrey Dean Morgan, Famke Janssen, and Cush Jumbo star in this film about a New York detective investigating the death of his daughter. It had a limited release on March 13, 2020. His next project is the currently untitled Bridges/Goldstein Project. It's a sci-fi series set 15-years in the future. It's a series of six stories about finding your soulmate, and the lengths people go to to love and be loved.
Tom Bennett (Fred)
Tom Bennett plays Sheila's boyfriend Fred, a character that actually comes off decently in comparison to Elton's parents. Tom Bennett appeared in episodes of Thanks for the Memories, Red Dwarf, and After Life. He only appeared in one episode of After Life, which is the Ricky Gervais Netflix comedy.
Charlie Rowe (Ray Williams)
Charlie Rowe plays Elton and Bernie's first music producer. He introduced Bernie and Elton. Charlie Rowe appears in the upcoming Peacock min-series Angelyne. The series is based on the Hollywood Reporter's article about Angelyne, a billboard star. It stars Emmy Rossum as the title character.
Tate Donovan (Doug Weston)
Known for his roles in Argo, Hercules, Damages, Friends, among others, Tate Donovan plays Doug Weston, the owner of the famed LA nightclub Troubadour. Elton and Bernie meet him on their first major gig. Tate Donovan appeared in the movie The Nomads in 2019. He also has two upcoming films Worth, which premiered at the Sundance film festival in January. It also stars Michael Keaton, Amy Ryan, and Stanley Tucci.
Donovan is part of a major ensemble cast to appear in the Aretha Franklin biopic Respect, which stars Jennifer Hudson, Queen Latifah, Forest Whitaker, and Mary J. Blige, among others. It's set for a January 15, 2021 release. Tate Donovan has a recurring role in the CBS series MacGyver.
Relive the magic of Rocketman, and the great performances by the cast, by streaming it now on Hulu and Amazon Prime Video.
Your Daily Blend of Entertainment News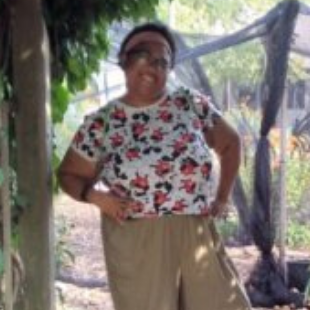 Spent most of my life in various parts of Illinois, including attending college in Evanston. I have been a life long lover of pop culture, especially television, turned that passion into writing about all things entertainment related. When I'm not writing about pop culture, I can be found channeling Gordon Ramsay by kicking people out the kitchen.