The Next Time You Watch Hamilton, Pay Attention To His Jackets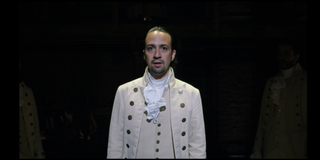 One of my favorite parts of the Lin-Manuel Miranda's Broadway sensation Hamilton is the costuming. There's so much that can be said about it, so for this piece we're going to focus on the jackets worn by the titular character played by Miranda himself, Alexander Hamilton. The jackets are used to give the audience a visual display of Hamilton's current age and life stage, his emotions, and to foreshadow events.
Shades of Brown: Starting From The Bottom
Hamilton starts the show wearing beige/off white. This likely signifies the past, as the story being told is of his childhood. He's poor, he's alone, and he's got a lot to prove. After narrator Aaron Burr (Leslie Odom Jr.) sings "in New York, you can be a new man" Miranda removes the beige jacket. He hands it to Odom Jr. who takes it off stage as Philipa Soo (Eliza) enters with Hamilton's brown jacket. For the rest of the song, the cast tells us what's to come, and Hamilton travels up the stairs, across the catwalk, and down the stairs on the other side, symbolizing his journey to New York. When the song ends, Hamilton is a teenager, living in New York, ready to take on college, the revolution, and the world.
Navy: A Soldier's Uniform
At the start of "Right Hand Man," Hamilton isn't wearing a jacket, and tells us "as a kid in the Caribbean [he] wished for a war." His dreams came true, obviously, because there is a war and he's fighting in it. But the costuming is cool because he's wearing the beige again when he references the past. As he moves to the present and tells us he's "either gonna die on the battlefield in glory or rise up" Burr enters holding Hamilton's navy jacket (and wearing his own) and helps him into it. The navy identifies them as soldiers, leading the way for General Washington to sing to us about the war. These costumes take us all the way through "Yorktown," when America wins the war.
Green: Wealth & Prosperity
"Dear Theodosia" is the first time we see Hamilton after the war. He is not wearing a jacket, but has on a green vest. Since green is the color of money, it's fitting to use that for our first secretary of the Treasury, but at this point in the story, Washington has not yet asked Hamilton to step into that role, which explains the vest instead of a jacket.
Similar to not wearing a jacket in "Right Hand Man" when he was in more of a interim time reflecting on the past and then put on his jacket when he was confident and excited about joining the revolution, here in "Dear Theodosia" Hamilton is once again in a transition stage, about to start running the Treasury. When he learns of his friend Laurens' death, Hamilton snaps back into his aggressive work mode, telling his wife Eliza "I have so much work to do." Then he's off to grab his next jacket from Burr.
On the first beat drop of "Non-Stop," Burr enters with Hamilton's green jacket. This is another life stage transition were Hamilton has studied law and become a lawyer. It seems like Burr should be the one in green since he's envious, but the color focus here is on the money. At the end of "Non-Stop" Washington asks Hamilton to run the Treasury, and Hamilton accepts. In addition to managing the wealth of the country, Hamilton is seeing prosperity and wealth in his personal life. He was on the winning side of the war and is excited to help shape America. He's welcomed his first child with Eliza. He's the right hand man of the President. It seems like he's earned this after his rough upbringing and nothing could go wrong.
Hamilton is seen in his green suit again in "The Adams Administration" (after wearing black and white in "One Last Time"). Lighting comes into play pretty powerfully here, as it alters the hue of Hamilton's attire. In Act I, the lighting made the suit look bright green, but here in Act II it's a much duller green. The color of the suit fades like Hamilton's career. After being elected President, John Adams fires Hamilton.
In "Hurricane" Hamilton is in the same suit, but the lighting causes it to appear black. No longer holding an office, the symbol of wealth has been taken away. The song takes us through Hamilton's thought process as he reviews everything he's been through and decides to pen The Reynolds Pamphlet.
Hamilton's green suit is most interesting in "The Reynolds Pamphlet." The suit is dark at first, almost black (once again, this is due to the lighting) as he is not running the Treasury. When he stands on the table as Burr, Jefferson and Madison are reading the pamphlet aloud, the lighting makes the suit bright green again when they speak of the affair. This makes sense because Hamilton was the secretary of the Treasury and everything going well at the time of his infidelity. Later in the song, Angelica arrives and tells Hamilton "I'm not here for you," and the lighting changes again, making his suit appear very dark, as a visual representation of him losing everything.
Black & White: A Balance
In "One Last Time," the green is gone. Hamilton enters wearing black and white, and I've got a couple of theories for this one. This first is these being the colors of yin and yang, the symbol of balance. "One Last Time" is bittersweet for Hamilton because while he's upset to see Washington step down, he acknowledges and respects that his mentor is proud of what his presidency has accomplished and ready to end his presidential run.
Hamilton enters "Blow Us All Away" wearing a black jacket when his son Phillip comes to him for dueling advice. Hamilton advises Phillip to participate in the duel and shoot at the sky, which eventually costs Phillip his life. Do Hamilton's good intentions matter when he ultimately sent his son to his death? Hamilton continues to wear all black through the following period of mourning when he and Eliza move uptown and he eventually receives her forgiveness.
Another theory for the black and white is that there is no grey area, it's simply this or that. "The Election of 1800" begins with Hamilton in black and white, without a jacket. This is when he chooses between Jefferson and Burr, and ultimately chooses Jefferson because "Jefferson has beliefs, Burr has none." To Hamilton, this is a black and white decision. He could not consider Burr without knowing what he believes, even though Hamilton vehemently disagrees with most of Jefferson's ideals.
An ensemble member enters at the start of "The World Was Wide Enough" holding Hamilton's black cloak and puts it on him. This time, they went beyond adding a jacket, but a full on cloak, because he is covered in darkness as it's time to meet his end.
What are you favorite special details from Hamilton's costumes?
Obsessed with Hamilton and most things Disney. Gets too attached to TV show characters. Loves a good thriller, but will only tolerate so much blood.
Your Daily Blend of Entertainment News
Thank you for signing up to CinemaBlend. You will receive a verification email shortly.
There was a problem. Please refresh the page and try again.