The Lovebirds' Andrene Ward-Hammond Gives Advice To Young Actors Of Color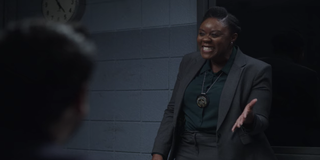 In Netflix's The Lovebirds, Andrene Ward-Hammond plays Detective Martin, who investigates the crime Lelani (Issa Rae) and Jibran (Kumail Nanjiani) are trying to clear their names. While Rae and Nanjiani are the big stars of the film, Ward-Hammond commands attention in her scenes. Her character is sharp, dedicated to her job, and seeks the truth, but also makes us laugh, and shows a soft side as she cares about the other characters' well-being.
I had the opportunity to sit down with Ward-Hammond, and was curious what advice she might offer to young actors of color from her seven years of experience in the industry. Here's what she told me:
Ain't that the truth. Speaking personally, I remember life before smartphones, when my family ate dinner together every night and actually talked to each other. When my friends and I went to dances or concerts and took pictures for a scrapbook to look back on and reminisce later, not to show all of our Instagram followers how exciting our lives were. Comparison really is the thief of all joy, and Ward-Hammond's advice should be heeded by all.
We often see before-and-after photos of someone's fitness journey, but we don't see the exercises or the meal prep. We see flawless models in magazines, but we don't see the hours they spend in hair and makeup. Every single one of us is striving toward something, and most of us don't want to show it off until we have the finished product.
Ward-Hammond addressed this sense of only having a piece of the puzzle in her advice to aspiring actors, saying:
Ward-Hammond is originally from Brooklyn, New York. She first got into acting by studying improv at the local Jamaica Arts Center, and later she moved to the South and joined the improv comedy troupe, Strange Groove, and further honed her craft with classes at Premier Actors' Network. Her career started out with many notable television appearances, including NCIS: New Orleans, Complications, and Being Mary Jane.
She then did three episodes on Lee Daniel's Star, and her current role on Manifest, Captain Kate Bowers of the NYPD, was introduced in Season 2 as a regular and will be returning for Season 3. Her film credits include Jeff Nichols' Loving, The Hate U Give, Instant Family, and Just Mercy. Ward-Hammond has racked up 36 total credits in her first 7 years in the industry and she shows no signs of slowing down.
This is a tough business. Many hear "no" more often than they hear "yes" but it's the ones who keep persevering and hold their focus who succeed. Ward-Hammond is a great example of this. While she first studied acting in high school, she got her college degree in Communications with a concentration in PR and minored in Psychology. These additional skills are perfect for an actor, because the job isn't just about becoming the character, it's about communicating with agents, directors and crew members along with being able to fully understand people's thoughts and emotions to display a realistic range. I believe taking the time to study these, along with the technique of acting, is what has propelled Ward-Hammond forward and allowed her to consistently book roles since entering the industry.
Ward-Hammond celebrated her 40th birthday in quarantine, and while she's gained experience and wisdom throughout her life and career she's not afraid to say that she's still learning.
She also stressed the importance of loving what you do, because "fame is fleeting". I think this can be applied in any industry. The idea of chasing clout will only get you so far. What do you reach for when you get to the top of the ladder? And if that was your entire goal, then what happens when you fall down? If you enjoy climbing, it makes reaching the top that much more rewarding, and every time you fall it will be easier to get back up.
The entertainment industry is a tough one to make it in, but that's by design, just ask Will Smith. Nothing worth having comes easy, right? Whatever your life stage, whatever you aspire to, follow Ward-Hammond's advice to do what you love and enjoy the journey.
The Lovebirds is now streaming on Netflix. You can also catch Andrene Ward-Hammond in the upcoming Netflix film Project Power, premiering August 14th, and the HBO Max series Lovecraft Country beginning August 16th.
Your Daily Blend of Entertainment News
Obsessed with Hamilton and most things Disney. Gets too attached to TV show characters. Loves a good thriller, but will only tolerate so much blood.
Your Daily Blend of Entertainment News
Thank you for signing up to CinemaBlend. You will receive a verification email shortly.
There was a problem. Please refresh the page and try again.