How Back To The Future's Time Travel Works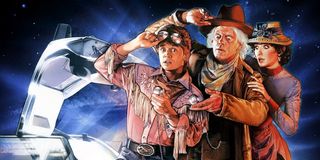 If you read the words "time travel" on a site like CinemaBlend, you can almost be assured that one thing will instantly come to mind. With the smell of burnt rubber and a familiar twinkle of well-worn musical notes, you can bet that the Back to the Future trilogy is one of those things that almost immediately presents itself in the pop culture consciousness. But we're not here to talk about whether or not Robert Zemeckis and Bob Gale's landmark sci-fi trilogy is good. No, we're here to talk about something much more important: how the time travel in the world of Doc Brown and Marty McFly actually works.
Better still, this academic exercise in temporal studies will open the door to even more examinations in how time travel works at the movies. Just as we've previously discussed with Avengers: Endgame, the subject of traveling through the past, present, and future of any given timeline is going to be something we're going to invest a lot of time into. So if you like what you see here, there's a great big beautiful tomorrow and/or yesterday waiting for you after! For now though, let's go back… to the past, present, and future of Hill Valley, California!
The Time Travel In Back To The Future
Now, you can stop me if you've heard this story before, as Back to the Future itself has turned 35 this very year. However, a refresher is always a good idea when it comes to the moving pieces that you'll see moving through the story of Robert Zemeckis and Bob Gale's legendary sci-fi trilogy. So here's a quick and basic rundown of what happened throughout the Back to the Future saga:
Who's Time Traveling
Throughout the course of three movies, we see Einstein the Dog, Marty McFly (Sr), Doctor Emmett L. Brown, Jennifer Parker, Biff Tannen, and Clara Clayton all zoom back and forth through time. Oh, don't forget Jules and Verne, Doc and Clara's kids. This concerns them too, though just barely.
From When To When
For the intents and purposes of the Back to the Future series, "the present day" is 1985. From that particular point on the timeline, the Back to the Future trilogy's time travel adventures span between the final film's trip to 1885 to the then far flung future of 2015. Two stops in 1955 and a trip to alternate 1985 also take place, because who would have thought time travel was such a dangerous, life altering thing?
The Purpose Of Their Trip
It all started with a science experiment in Back to the Future, which saw Doc Brown testing his time machine to see if it'd work. But then, Marty McFly accidentally goes back to 1955, and has to correct the mistake of throwing off his parent's first meeting and falling in love. That's a simple enough beginning, but then Marty has a double shot of intentional time travel adventures, as Back to the Future Part II starts with Doc bringing Marty and Jennifer to 2015 to save their kids from going to jail, but leads to having to correct old Biff Tannen's betting streak starting in 1955, and preventing Doc from being murdered by Mad Dog Tannen in 1885. Last, but not least, Marty has to go home to 1985 when all is said and done; because the time continuum.
How Time Travel Happens In Back To the Future
The two main methods of travel in Back to the Future's trilogy are a converted DeLorean and a converted locomotive. Both vehicles, whether through nuclear radiation, burning garbage, or steam power, need to get to 88 miles per hour, and generate a charge of 1.21 Gigawatts in order to do the thing. When your vehicle of choice hits those milestones, you're going to see some serious shit… time travel shit!
One very important thing to keep in mind is you need to be mindful of where you're travelling. The exact spot you're traveling from is where you'll arrive when you reach the date of your destination, and what was once a mall parking lot in 1985 could be a pine tree farm in 1955. Hover conversion is recommended, so that whenever and wherever you're going, you won't need roads. And thanks to some script changes early on in the franchise's history, you won't need Coca Cola either!
Can History Be Changed As A Result Of Time Travel In Back to the Future?
Oh boy, can it. Throughout Back to the Future history, we've seen the McFly kids almost wiped out of existence, Doc Brown almost murdered over a simple amount of money, and an entirely different 1985 where Biff Tannen runs Hill Valley, and is rich beyond his wildest dreams. There is a lot of history that's almost changed in the Back to the Future saga. However, some pieces of history do change permanently, and for the better. One of the most classic examples of the perils of time travel, the Back to the Future trilogy is a single timeline, rewritten as events progress.
Artifacts like photographs, faxes, and matchbooks change as quickly as events are being changed in the timeline. So the better your chances of seeing an event come to pass, the longer that evidence is going to stick around. See also: Jennifer's fax from Back to the Future Part II surviving until the end of Back to the Future Part III, when a newly wisened Marty rewrites his future by not engaging in 1985's fateful drag race.
What Are The Consequences Of Time Travel In Back To The Future?
While Back to the Future's time travel was a messy affair, the end result could be seen as a net positive. And the consequences present themselves in very similar scenarios that hit three main characters in pretty unique ways.
Doc's Consequences
As Doc Brown, his wife Clara, and their sons Jules and Verne are still traveling through the whole of space and time in their souped up locomotive, this could lead to even more chaos throughout the timeline. That's great for a film and media franchise, but that's horrible if you want to sleep at night knowing you won't have to adjust for a consequences of an accidentally generated tangent timeline. Still, Doc got a happy ending, finally finding himself bound to a family he never even knew he wanted until he met Clara, whisking her away to be his companion for all of time and space. Now, why does that sound so familiar?
Marty's Consequences
Seeing the consequences of the actions his children, his enemies, and even his own self take in their lifetimes, he learns to have more confidence in himself. Marty, much like Doc, found himself a changed man, in relationships that will keep him grounded. But learning not to give in to his more impulsive nature, and to turn the cheek when called a chicken, puts Marty on the presumed path to success as a musician; instead of the working stiff he'd have become if he got into the accident with the Rolls Royce. Like famed science fiction author/father George McFly once said, when you put your mind to it… you can accomplish anything. Which brings us to the evolution of Marty's father being one of the lynchpins of the Back to the Future series' altered history.
George McFly's Consequences
George McFly never traveled through time, but he certainly benefited from time travel.
When George McFly and Lorraine Baines first meet, their relationship begins out of pity after he falls out of a tree… while trying to creep on an undressing Lorraine. The course of their love runs in a safe and predictable manner, with a first kiss acting as the highlight to their steady but waning romance. However, once Marty helps his young father discover confidence, and thanks to the timeline presenting George with the opportunity to dethrone Biff Tannen as the big dog, the new George and Lorraine McFly are a pair of lovers that embrace romance and confidence. Proving that so long as you follow the rules of time travel, and know how to play a ripping guitar solo 30 years before it's ever invented, you too could change the future for the better.
Let's Do Another One!
So there you have it: the world of Back to the Future's time travel explained, in a simple guide! It's a process that's so much fun, we here at CinemaBlend are dedicating ourselves to keeping this subject going. Time travel is a well-beloved staple in sci-fi, and with so many variants on the subject, it's a handy topic to be an expert on… just in case you find yourself somewhere, or some time, you don't belong.
If there's any particular time travel stories you'd like to send to our labs for deconstruction, feel free to suggest them in the comments below! As for the next time you'll see us in the mood for time travel, it feels like a good time for a Star Trek! And dear readers, if you thought we went on a tangent about tangent timelines this time out, just wait until we break down one of the most iconic installments of that series, Star Trek IV: The Voyage Home.
Though that could always change, as the timeline could always skew in the course of events between here and now. Wibbley wobbley, timey wimey… stuff always comes up, and you never know where or when you'll be until you get there. So until our next meeting, don't swipe any sports almanacs, and if a crazy wild-eyed scientist or a kid show up asking about this write up, send them our way. We've got some further questions we need to ask them. See you in the future!
CinemaBlend's James Bond (expert). Also versed in Large Scale Aggressors, time travel, and Guillermo del Toro. He fights for The User.
Your Daily Blend of Entertainment News
Thank you for signing up to CinemaBlend. You will receive a verification email shortly.
There was a problem. Please refresh the page and try again.