9 Bad Movies From Otherwise Iconic Directors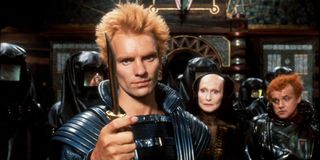 Hollywood is loaded with iconic directors who have given audiences some of the best entertainment for decades. For that reason, they're often given more work, which always opens them up to giving audiences more to love... or something they may really, really hate. Most of these icons hit far more often than they miss, though even the greatest have that movie where they struck out.
To be completely upfront, there will be some hot takes on this list. Every item on this list is the lowest-rated movie from the mentioned iconic director on Rotten Tomatoes, so blame the critics of the time, not me. With that out of the way, let's run down the list of terrible movies from iconic directors that may or may not deserve a spotlight.
Guillermo Del Toro - Blade 2
Ironically, what many would consider the best Blade movie is also the worst movie made by Guillermo del Toro. Not that Del Toro is ever really given a ton of blame for that; his job was to direct, and he did his best with the script he was given. Unfortunately, even the most foreboding and dark areas fall flat when the movie uses fight scenes with dialogue only to move Blade along to the next fight scene. Thankfully, del Toro would win critics over in the superhero genre with his two Hellboy movies down the road.
David Lynch - Dune
David Lynch had a tremendous task cut out for him in Dune, and by most metrics to this day, he failed. The man who perfectly captured the life of The Elephant Man somehow couldn't find a proper way to adapt Frank Herbert's classic in a way that could be easily understood by its audience. The movie is widely considered a miss for Lynch, and while he's come close with a couple features, it's the only movie of his considered "rotten" by critics on Rotten Tomatoes.
George Lucas- Star Wars: The Phantom Menace
George Lucas' track record is somewhat skewed considering 2/3rds of his directing work is for Star Wars projects, but he did create the franchise after all. Unfortunately, he also gifted the world the most critically panned entry in the franchise, The Phantom Menace. I thought it was fine in my younger years, but a recent re-watch made me question why plans for the trilogy weren't heavily reconsidered after that entry alone. Was the world just so desperate for more Star Wars that they looked past it? Obviously there were people who knew right out the gate, as many critics were not shy to say this wasn't nearly on the same level as A New Hope.
Martin Scorsese- Boxcar Bertha
When it comes to violent movies that revolve around a world of crime, typically Martin Scorsese is the guy to call. That said, that wasn't known back when he made Boxcar Bertha, which was only his second directorial feature at the time. Hilariously enough, most of the complaints were due to the violence, which was often a criticism Scorsese has gotten for successive films that are now considered masterpieces. Unfortunately, Boxcar Bertha has not been nearly as acclaimed as the rest.
Tim Burton- Dark Shadows
Tim Burton has a knack for putting his own spin on classic stories, even with works that may not initially seem like they could work with his dark charm. Weirdly enough, Dark Shadows seemed like a perfect and relatively sensible fit for Burton, and he had Johnny Depp on board. It should've been a hit, but critics found the premise played out. The jokes fell flat and Burton was criticized for struggling to find a tone throughout the movie. Sometimes the "sure things" in Hollywood just don't work out in execution, and this movie is proof positive of that.
Peter Jackson - The Lovely Bones
Peter Jackson is known for a lot of things, but paranormal thrillers aren't really his bag. Sure, Frodo did turn invisible a handful of times in The Lord Of The Rings, but even in the context of all he'd done before this movie, The Lovely Bones was a pretty out-there film for Jackson. Of course, that was part of the point, as Jackson went on the record saying he enjoyed doing something that wasn't a large-scale epic for once. Three years later he was doing The Hobbit, though it's worth noting he wasn't the first choice.
Steven Spielberg - Hook
Hook is a beloved classic by many, but that was not how it was received by critics. This movie got a thorough thrashing for being an ill-begotten story of Peter Pan and was hated by critics so much that its aggregate Rotten Tomatoes score is a measly 28%. The movie was called unimaginative, the effects were not well integrated, and the overall story was garbled down by too many Hollywood ideals. Perhaps the biggest criticism was that it had such a great premise, but did so little to further adapt or bring in elements from the original story.
Ridley Scott - A Good Year
Similar to what I touched on earlier with Peter Jackson, there are things iconic directors are known for, and things they aren't. When you think of Ridley Scott, I highly doubt you think of romantic comedies. Scott has a wide range of movies he can make a hit, and with Russell Crowe as the lead in A Good Year, it stood to reason he could do it again. This time it just didn't happen, as the end result was seen as a soulless romantic comedy that went on a little too long. It's not necessarily bad, but certainly not one anyone needs to make time for.
David Fincher - Alien 3
The final entry is the most perhaps fitting, because not even David Fincher will defend Alien 3. The third installment in the Alien franchise already had a lot to live up to with the first two movies, which was directed by two other directing icons, Ridley Scott and James Cameron. Unfortunately, Fincher's film wasn't considered nearly as exciting or bold as the prior two films, though it has gathered its share of fans over the years. Still, when even Fincher himself disowns it, it's hard not to side with the crowd who thinks this sequel just wasn't up to par.
There are plenty of other bad movies by otherwise great directors, so feel free to list some others down in the comments. As always, stick with CinemaBlend for all the latest news happening in movies and television.
Your Daily Blend of Entertainment News
Mick likes good television, but also reality television. He grew up on Star Wars, DC, Marvel, and pro wrestling and loves to discuss and dissect most of it. He's been writing online for over a decade and never dreamed he'd be in the position he is today.
Your Daily Blend of Entertainment News
Thank you for signing up to CinemaBlend. You will receive a verification email shortly.
There was a problem. Please refresh the page and try again.