Anthony Mackie: 10 Pre-Captain America Performances You May Have Forgotten About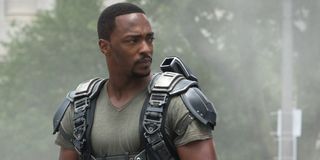 There was a time before Captain America: The Winter Soldier when Anthony Mackie wasn't the high-flying and quick-witted Avenger, but instead a great character actor (which he has continued to do over the years) and showed up in some of the most important films of the early 21st Century.
With appearances in Academy Award-winning pictures like Million Dollar Baby and The Hurt Locker, biopics like 2009's Notorious, and even a Spike Lee Joint, Mackie has given it his all in roles that may be overshadowed by his Marvel work. So, as we look toward a future where Sam Wilson may or may not be the next Captain America, here are 10 Anthony Mackie performances you may have forgotten about.
Papa Doc / Clarence - 8 Mile
Those who thought Anthony Mackie's Marvel debut was something should go back and watch the 2002 Eminem-led drama 8 Mile and take in the brilliance of Mackie's take on the hardened "Papa Doc," real-name Clarence, who may or may not be all he's cracked up to be. Papa Doc is a thorn in the side of Eminem's Jimmy "B-Rabbit" Smith throughout the second half of the movie and finds himself on the losing side of the aspiring rappers' battle in the film's final act. Go back and look at the cold expression on Anthony Mackie's face during the teardown of his privileged background and how he says so much without saying a word.
Perry - Brother To Brother
In 2004, Anthony Mackie gave one of his most touching performances in Rodney Evans' drama Brother to Brother, in which he played Perry, a gay art student kicked out of his parents' house who has a chance encounter with an older homeless man, Bruce (Roger Robinson), who has ties to the Harlem Renaissance. Throughout this 97-minute feature, Bruce tells all sorts of stories about working and living among legends of the era while Perry realizes that what he's going through is nothing new tries to come to terms with a world that won't come to terms with him.
Shawrelle Berry - Million Dollar Baby
Anthony Mackie has this way about him that makes it seem like he doesn't have to put any effort into portraying a jerk. He has this look in his eyes, sound in his voice, and expression on his face in scenes like the one in Million Dollar Baby where his character, Shawrelle Berry, beats down on Jay Baruchel's "Danger" with no remorse or respect but only to get knocked out by Morgan Freeman's Eddie Dupris. It's the swagger, cockiness, and flat out disregard for anyone and everyone that makes the character so believable, even if he's barely in the movie and is overshadowed by the A-listers taking up residence throughout the Academy Award-winning picture.
Adrian Doorbal - Pain & Gain
Less than a year before Anthony Mackie introduced himself to the world in Captain America: The Winter Soldier, he gave one of the best performances of his career in Michael Bay's 2013 crime drama Pain & Gain. Appearing alongside Mark Wahlberg as Daniel Lugo and Dwayne Johnson as Paul Doyle, Mackie portrayed Adrian "Noel" Doorbal, a trainer at Lugo's Miami gym who gets caught up in Lugo's plan that ultimately leads to the kidnapping, extortion, torture, and murder of several victims. If the movie wasn't so graphic and tragic in its presentation, pretty much every scene involving Mackie's character would be hilarious, especially when detailing his troubles caused by steroids.
Sergeant J.T. Sanborn - The Hurt Locker
Anthony Mackie was a star in the making when he was cast in Kathryn Bigelow's 2008 Iraq War drama The Hurt Locker, and the Academy Award-winning picture only helped further propel his career. Starring alongside future Captain America: Civil War buddy Jeremy Renner, Mackie gave it his all in his portrayal of U.S. Army Explosive Ordinance Disposal (EOD) unite member Sergeant J.T. Sanborn, even if that meant spending a lot of time getting into arguments with Renner's Sergeant First Class William James, which happens quite a bit. Watching as Mackie's character finds himself in tough situations with a man he can't fully trust or understand never gets old, even after all these years.
John Henry "Jack" Armstrong - She Hate Me
The 2004 Spike Lee joint She Hate Me sees a young Anthony Mackie take on the role of John Henry "Jack" Armstrong, a disgraced corporate executive who is forced to find ways to make ends meet after his assets are frozen. Things get complicated, however, when Armstrong's ex-fiancée, Fatima Goodrich (Kerry Washington) and her new girlfriend, Alex Guerrero (Dania Ramirez) pay him to impregnate them both, he comes up with a new idea for a business venture, one that ends up leading to a great deal of trouble.
Tupac Shakur - Notorious
Long before there was a biopic based on the life and career of Tupac Shakur, Anthony Mackie portrayed the slain rapper in the 2009 drama Notorious, which followed the rise and fall of Tupac's friend-turned-enemy The Notorious B.I.G. And although it's not the best biopic out there, Notorious does do a great job of retelling the soured friendship and bitter rivalry shared by the hip hop stars in the months leading up to their respective murders. The way that Jamal Woolard's Biggie Smalls and Mackie's Tupac interact with one another sets to the tone for this section of the film and the tragedy that follows.
Hammer - Haven
Anthony Mackie was arguably one of the hardest working young actors in 2004, with five movies with his name on the billing being released that year. You can add the crime thriller Haven, which centers around life in the Cayman Islands to that list. In Frank E. Flowers' drama, which also features Orlando Bloom, Zoë Saldana, and Bill Paxton, to name a few, Mackie plays Hammer, the overprotective and doomed brother of Saldana's Andrea who finds himself in a situation in which he cannot escape. Haven always seems to fly under the radar, but it shouldn't be overlooked if not just for Mackie's performance.
Frank - Half Nelson
Ryan Fleck's 2006 drama Half Nelson is mostly remembered for its depiction of troubled school teacher Dan Dunne (Ryan Gosling) and the close bond his has with one of his students, Drey (Shareeka Epps), but one of the driving forces of the film's plot is Anthony Mackie's Frank. When Frank, the neighborhood dealer, sinks his teeth into the young Drey and gets her to start running drugs for him, it starts the ride that will end with Dunne's two worlds colliding. Released in the beginning of what would be a busy year for Mackie, Half Nelson proved once again that the talented actor had staying power.
Harry Mitchell - The Adjustment Bureau
The 2011 science fiction thriller The Adjustment Bureau centers around Congressman David Norris (Matt Damon) after he discovers that his entire life is nothing more than a series of events controlled by a mysterious organization. When one of the organization's attempts to prevent David from meeting Elise Sellas (Emily Blunt) fails because Harry Mitchell (Anthony Mackie) falls asleep, a series of events are put into motion that will potentially change everything. Throughout the movie, Harry serves as a protector for David and helps him escape various situations and literally opens doors for him. And it does it with such style and sophistication, it's hard to not enjoy it.
Those are just 10 of Anthony Mackie's pre-Captain America roles. Make sure to sound off in the comments below and let everyone know which one is your favorite or if one was left off.
Your Daily Blend of Entertainment News
Philip grew up in Louisiana (not New Orleans) before moving to St. Louis after graduating from Louisiana State University-Shreveport. When he's not writing about movies or television, Philip can be found being chased by his three kids, telling his dogs to stop yelling at the mailman, or yelling about professional wrestling to his wife. If the stars properly align, he will talk about For Love Of The Game being the best baseball movie of all time.
Your Daily Blend of Entertainment News
Thank you for signing up to CinemaBlend. You will receive a verification email shortly.
There was a problem. Please refresh the page and try again.