What's Going On With Tron And Other Future Attractions At Disneyland And Disney World In The Time Of COVID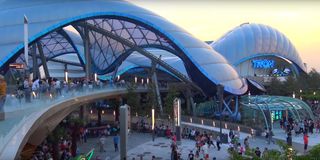 While most Disney theme parks around the world are now open for business, it's clear that it's going to be a long time before things get back to anything resembling normal. Disneyland in Anaheim and Hong Kong are closed, and even the parks that are open are only running at a fraction of capacity. As such, income from those parks is going to be drastically cut for the foreseeable future, which means that Walt Disney Imagineering is likely going to be re-evaluating a lot of plans for even the already-announced attractions at Disneyland and Walt Disney World.
Recently, Walt Disney Imagineering head Bob Weiss spoke with Disney's D23 Fan Club publication and confirmed that some new attractions are likely going to be a bit further off than they were originally planned to be. He singled out a pair of new attractions, the new Tron coaster at Walt Disney World's Magic Kingdom and Disneyland's version of Mickey and Minnie's Runaway Railway, to say they are going to be moving at a slower pace for at least a while, while others could be delayed even further. According to Weiss:
While it's not exactly clear what "in stages" means in this case, we can certainly understand it to mean that, while both of these projects will move forward, they won't be working at exactly the same pace they were before the shutdown of the parks. And with that, we can assume they'll both be opening later than Walt Disney Imagineering was planning. Now, in both cases, these attractions didn't have opening dates announced yet, so from the outside, we won't necessarily see the delay, but it likely will be there.
Currently Delayed Attractions At Walt Disney World And Disneyland
The closest thing that Tron Lightcycle Power Run had for an opening date was an expectation it would be open for Walt Disney World and Magic Kingdom's 50th anniversary in 2021. It still seems likely it will open sometime next year, even if it ends up happing later in the year than planned.
These aren't the only attractions that have been delayed due to the pandemic situation and its fallout. Walt Disney World has already confirmed that the announced redesign of Spaceship Earth and a planned new Mary Poppins attraction at Epcot have both been postponed and will not be part of the current Epcot redesign that is currently underway.
Disney California Adventure's Avengers Campus was given a July opening date back in March right before things shut down, so we know that new land is close to being complete and will likely be opening in fairly short order once that park is able to open again. However, with no idea when the Disneyland Resort will even be able to begin a phased reopening of the parks, Avengers Campus is still off in the ether someplace.
The Disneyland And Walt Disney World Attractions We Don't Know About
Of course, beyond these near and medium-term attractions, Bob Weiss mentioned the longer-term items that will need more time to assess. We know that one of these long term attractions is the redesigned Splash Mountain, which, despite being announced, is still in its very early stages. While that one is the redesign of an existing attraction, rather than a 'build from scratch', the redesign is extensive, so it will certainly take time. Another attraction that's expected to be open next year, Guardians of the Galaxy Cosmic Rewind at Epcot, wasn't mentioned, so it's unclear what the state of that attraction is. It's been under construction for some time and is likely close to being completed, but we don't know for sure.
What other longer-term projects Bob Weiss could be talking about, we don't even know. He could be referring to projects that haven't even been publicly announced yet, but are being worked on internally. Odds are a lot of those sorts of ideas are going to be assessed not only to figure out when they might happen, but if. While the newly reopened Walt Disney World and Disneyland Shanghai are reportedly profitable for Disney in an absolute sense, they certainly aren't bringing in the same money they used to. With Disneyland Resort and Hong Kong Disneyland closed, that lack of revenue is compounded. The fact is that even in a best-case scenario, we're looking at a long road back to where we were for the parks, so many projects could get scrapped, or at the very least paired down to a less expensive version of themselves.
With the Mary Poppins and Spaceship Earth sections of the current Epcot Experience presentation seen in the park gone, but the rest still intact, that would seemingly indicate that the rest of the current Epcot construction, including a Moana-themed attraction, a new nighttime spectacular and more, will go forward as announced, both in scope and timing, but it's certainly possible that will change as well. The nighttime spectacular HarmoniUS was scheduled to begin in October, and it's possible that it could still be ready to go by then, but nighttime shows are currently on hold at the parks to prevent crowds gathering, and it seems unlikely that will change by October.
Star Wars: Galactic Starcruiser, the new hotel/immersive Star Wars experience at Walt Disney World, is still officially scheduled to open in 2021, but one has to wonder how a new hotel will operate if we're still social distancing when construction is complete. Considering how communal the experience seems to be when it's been described, it feels like a lot of what was planned for the Galactic Starcruiser might not work unless strangers are allowed to be close together. Could we see changes in what is planned, which could potentially delay construction? Or alternatively, could the Starcruiser need to wait to open until it's considered safe? At this point, it's probably too early to tell either way.
The Future Of Disneyland And Walt Disney World
Every indication is that theme parks are in for a difficult time for the next few years. Even assuming the health and safety concerns that are keeping some people away fade away sooner rather than later, expectations are that we'll be climbing out of the financial repercussions for years. Attendance at theme parks will likely be down long term because many who might otherwise visit simply won't be in a financial position to do so.
With the parks going through long term financial hardship, that's a recipe for a down period at places like Walt Disney World and Disneyland. We may go for a long time without any major new attractions because the money simply isn't there. At the same time, spending the money on big new attractions might help draw in those people on the fence and help get more guests to the parks spending money.
Hopefully, some happy medium can be found. While many hardcore Disney Parks fans tend to be critical when they see Disney intentionally saving money, sometimes constraints breed creativity, and we end up with solutions to problems that might not have been considered otherwise.
CinemaBlend's resident theme park junkie and amateur Disney historian. Armchair Imagineer. Epcot Stan. Future Club 33 Member.
Your Daily Blend of Entertainment News
Thank you for signing up to CinemaBlend. You will receive a verification email shortly.
There was a problem. Please refresh the page and try again.