Thor: The Dark World: Why Fans Have Issues With The Marvel Movie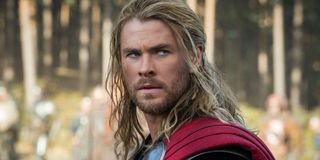 (Image credit: (Marvel))
As far as franchises go, the Marvel Cinematic Universe has a track record that averages much higher than most. This is especially impressive since the MCU has produced 23 interwoven movies in a matter of a decade. But if there's one movie of the bunch that gets the most negative vibrations, it would be 2013's Thor: The Dark World. The eighth installment into the MCU came out the same year as Iron Man 3 – a time when the series was still smoothing out the edges.
Thor: Dark World stands as the worst reviewed MCU film so far, but at a 66 percent on Rotten Tomatoes that's still not disastrous. CinemaBlend's own Eric Eisenberg ranked Thor: The Dark World as the worst MCU movie too… yeah even below The Incredible Hulk. Let's talk through why fans have issues with Chris Hemsworth's second solo outing as the God of Thunder.
Thor Is Pretty Much At His Worst And Most Boring
One central complaint about Thor: The Dark World is how Chris Hemsworth's MCU character was reduced to being an uninteresting one-dimensional character, without many qualities to root for. The first Thor movie was a successful adaptation of the Asgardian because it challenged Chris Hemsworth's character to check his hubris when his father Odin casts him out and strands him on Earth without his precious Mjolnir. It's a classic fish-out-of-water storyline that matched well with Natalie Portman's Jane Foster and her scientist buddies. By the end, he learns the true meaning of being a hero and it's satisfying for audiences to see this. However, in Thor: Dark World there's not really a story arc at all.
As Giant Freakin Robot explained in one column, "things are incredibly static" for the hero throughout the movie… and well that's boring. No one wants to root for a perfect-looking hero, who isn't dealing with much conflict other than the villain in front of him. Funny enough, Chris Hemsworth has specifically addressed this complaint. In his own words:
The complaint has merit, but hardly seems to matter now that the MCU has since actively worked to improve on Thor's arc in the franchise. Taika Waititi's Ragnarok injected a much-needed omf into the hero's personality and Avengers: Endgame even took Thor back to a key scene in Dark World and made it not only matter, but deeply emotional. That mom talk was one of the best moments of Endgame.
Christopher Eccleston's Malekith Turned Out To Be A Super Lame Villain
There's an idea out there that "a movie is only as good as its villain," and most of the time it tracks for MCU movies. Now sometimes a story can still manage by breaking this rule gestures to Guardians of the Galaxy, but according to fans Christopher Eccleston's Malekith is a glaring issue in Dark World they cannot look past. When the movie came out IndieWire expressed that Malekith was the biggest issue, calling it a "disaster." And Film School Rejects points out the movie's waste of the talented Doctor Who actor and how his lines are reduced to "synthetic garble" thanks to his mask and heavy use of Elvish. Eccleston didn't enjoy playing the part either, likening it to "just gun in your mouth."
I would agree here, Malekith has got to be the worst villain to grace the MCU. He's underutilized and uninteresting. The part was initially supposed to go to Mads Mikkelsen before he later found a villain role in Doctor Strange. The main problem here is much of Malekith's key moments were cut from the final film. Eccleston said there were "various scenes" about his character that did not make the movie. Director Alan Taylor has also been open about how the theatrical cut did not reflect his plans for the villain via Syfy:
We may never find out if Alan Taylor's original vision for Dark World would have improved on the movie as a whole, but it goes to show that there seems to be a legitimate reason why this criticism exists.
Thor And Jane's Romance Got Real Stiff
Another issue with Thor: The Dark World fans had was the developing relationship between Thor and Natalie Portman's Jane Foster. Fans were so uninterested about the dynamic so profusely that there really wasn't much discourse about the franchise ignoring Jane when it came to Thor: Ragnarok's release. As ScreenRant's Jamie Gerber notes, Dark World "didn't give Portman enough to do," give her an interesting place in the MCU and thus wasted her addition to the franchise. One Redditor claimed if Jane Foster and her Earth friends had been completely absent from the film, it would have been infinitely better.
The romance between Thor and Jane definitely fell into becoming a forced plot device that really was not compelling thanks to Dark World in my opinion as well. Natalie Portman is obviously incredible and I really wanted to like her storyline as the franchise progressed, but the Thor sequel pretty much kills any spark between them. Thankfully, Taika Waititi is here to perhaps save the day again with the upcoming fourth Thor movie Love and Thunder where Portman is expected to return to take on the Mighty Thor mantle.
It Probably Would've Been Better If Patty Jenkins Had Directed It
One final gripe with Thor: The Dark World worth mentioning are fans' wistful sadness over the movie almost being a Patty Jenkins' film. The filmmaker behind the Wonder Woman films was once on board to direct Dark World, with Portman lovingly behind the decision in support. However she left the project due to "creative differences" and Alan Taylor took over. Since 2017's Wonder Woman hit theaters, her talent with the genre especially with stories that tackle mythology is clear and fans are bummed. Not to mention the awesome concept she had. Take a look:
Patty Jenkins would have been an incredible choice and the what-could-have-been angle certainly runs the mind wild, but in the end I think it was for the better. The filmmaker ended up making history for female directors for Wonder Woman and that matters more to the industry than a Thor sequel. Jenkins also has said she doesn't think she would have been in the running for the DC movie if she ended up doing Thor: The Dark World.
What are your feelings about Thor: The Dark World, all things considered? Can you see past these big issues and enjoy it? Vote in our poll below and check out the upcoming Marvel slate here including Thor: Love and Thunder's release on February 11, 2022.
This poll is no longer available.
YA genre tribute. Horror May Queen. Word webslinger. All her writing should be read in Sarah Connor's Terminator 2 voice over.
Your Daily Blend of Entertainment News
Thank you for signing up to CinemaBlend. You will receive a verification email shortly.
There was a problem. Please refresh the page and try again.