Why Christopher Eccleston Really Left Doctor Who And Didn't Return For Anniversary Episode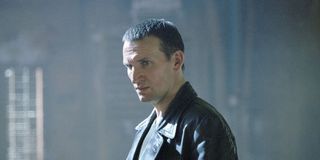 Christopher Eccleston's portrayal of the Ninth Doctor helped to launch the revival of Doctor Who when the BBC show returned with new episodes in 2005. However, his run on the show was very short-lived. After he'd filmed one season, his departure was announced, and after only one episode had aired. While the reasons for Eccleston's departure have remained a relative mystery for years, he recently opened up further about his ordeal on the show, and it's again clear he didn't leave amicably.
Over the weekend, Christopher Eccleston participated in a panel discussion at New York Comic Con. He was asked about why he left Doctor Who after just one season and for the first time in a long time, Eccleston provided fans some more information behind his exit.
Christopher Eccleston never mentions anyone by name at NYCC (via The Independent), but it seems their working relationship fizzled out completely. Based on the information, any Doctor Who fan can make an educated guess about at least one of these individuals being Russell T. Davies, Doctor Who's showrunner at the time. The other two are likely executive producers Julie Gardner and Phil Collinson.
Prior to publicly announcing that he wouldn't return for a second season, BBC breached the contract that stated they would keep the news under wraps. The studio later released a statement quoting Christopher Eccleston about his departure, but they later came under fire and admitted that the actor had not actually been consulted prior to the release of the statement. Yikes.
When the 50th anniversary episode of Doctor Who came around, Christopher Eccleston was asked to return for "The Day of the Doctor," which included Tenth Doctor David Tennant, Eleventh Doctor Matt Smith, and War Doctor John Hurt. However, after reading the episode's script, Eccleston declined. Here's how he explained that:
It's obvious the actor had a rough time during his tenure on the series, even admitting that he became anorexic while filming Doctor Who. Christopher Eccleston also felt he was mistreated by the media for a long time, and that made him lose his confidence as an actor for awhile.
Christopher Eccleston remains the only actor to play The Doctor for just one season. Though he isn't the most memorable among fans, his role on Doctor Who helped to relaunch a new era in the adventures of the time-hopping alien. For that, we'll always be grateful.
Fans are waiting on more information about Doctor Who Season 12, which is set to hit BBC America in 2020.
Your Daily Blend of Entertainment News