Apparently, Shia LaBeouf Wasn't The Only Actor To Tattoo Himself For New Movie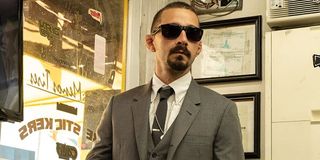 Say what you will about Shia LaBeouf, but one thing that can't be denied is that he's committed to his craft. Back in 2018, we got a first look at his tattoo transformation for The Tax Collector, but then we later learned that the tattoos he had all over his body were the real deal. Now, apparently, he's not the only actor who hit up the tattoo parlor for a role in the David Ayer-directed movie.
The Tax Collector's Bobby Soto, who also appeared in Netflix's Narcos: Mexico, has had a close working relationship with Shia LaBeouf for a while. And as it so happens, while he was preparing for his role as David, Soto also got tattoos. Here's what he had to say:
It's one thing to be a method actor and behave like your character on and off the set, but it's quite another to permanently ink yourself for a role, especially when that ink is all over your body. So hats off to Shia LaBeouf and Bobby Soto for really wanting to get into character.
Seeing a co-star get so heavily tattooed for a role could make an actor feel like they have to reach that same bar of commitment, but Bobby Soto says he didn't get his own tattoos because due to peer pressure. He later told THR:
Since putting aside lead roles in blockbuster movies like Transformers, Shia LaBeouf has focused more on smaller, more intimate projects. This seems to have given him license to take things to the next level and fully commit to roles. However, sometimes this commitment has taken him to some dangerous places like when he worked with Ayer on Fury and reportedly cut his own face to help make the film more accurate.
If you're eager to watch both Shia LaBeouf and Bobby Soto in all of their tattooed glory, The Tax Collector is now available on VOD and in limited theaters.
Your Daily Blend of Entertainment News
Thank you for signing up to CinemaBlend. You will receive a verification email shortly.
There was a problem. Please refresh the page and try again.