6 Shia LaBeouf Movies That Prove He's A Serious Actor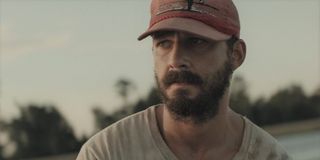 Shia LaBeouf is a tremendous actor. While his paparazzi attention, questionable antics, and surreal art projects have occasionally overshadowed his impressive work as a performer, there's no denying that, in the right role, this is an immensely talented, hard-working actor who can add a wealth of presence and emotional gravitas into even fairly minor roles.
It is a credit to LaBeouf's formidable talents as a performer that the troubled actor has constantly been able to move past his prolonged, well-reported history of drunken arrests, poor choices, and several other media controversies and prove himself as a serious performer. Particularly with the actor doing some of the best work of his career this year in movies like The Peanut Butter Falcon and Honey Boy, it's time to admit it: Shia LaBeouf is a damn good actor. We should recognize the former child star as a heavyweight talent.
As an actor, there are some folks out there who likely know Shia LaBeouf best for his work as a child performer, in shows like Even Stevens and movies like Holes, or for his blockbuster work in the first three Transformers movies and/or Indiana Jones and the Kingdom of the Crystal Skull. The actor has come a long way since those projects, admittedly, but his talent has only continued to grow as he becomes a more soulful, dramatic actor. There is a lot to be admired in the presence, weight, authenticity, and emotional depth that Shia LaBeouf provides in his best roles (or, hell, even his weakest roles). That's no small feat. It's a credit to the actor's commitment and dedication. We're here to celebrate a few of his best performances.
The Peanut Butter Falcon
In what is easily among his most heartfelt and emotionally tender performances, Shia LaBeouf provides some of his most affecting, inspired, and touching work to date in this year's indie darling, The Peanut Butter Falcon. In the role of Tyler, a lost soul still hurting from a recent tragedy who almost unwittingly adopts the role of big brother to Zak (Zack Gottsagen), a runaway with Down Syndrome who has aspirations of becoming the next great wrestler, LaBeouf plays Huckberry Finn to Gottsagen's Tom Sawyer. Together, these two wild-at-heart characters share a grand adventure against the picturesque Southern landscape as they form a close bond in pursuit of their own ambitions and desire for acceptance and belonging.
While Shia LaBeouf's adult roles outside of Disney productions and major blockbusters can be defined by their hard-edge roughness and/or stony temper, The Peanut Butter Falcon allows the committed actor to open up more freely and express his inner benevolent child, while also allowing himself to showcase the vulnerability and emotional sincerity that are found in LaBeouf's best performances. The bond between Zak and Tyler feels richly intimate, immensely engrossing, and authentically enriching; it's no wonder that LaBeouf credits his co-star Zack Gottsagen for giving him the strength to finally get sober and subsequently saving his life in the process. It's an entirely winsome and dynamic performance, one that bolstered by his winning on-screen brotherly/fatherly chemistry with Gottsagen, and a wonderful showcase for his talents as both a dramatic and comedic actor.
Honey Boy
There's no doubt that Honey Boy is easily Shia LaBeouf's most personal), emotionally-searching, self-reflective work to date — as both an actor and artist. Written by the actor in rehab, which is reflected inside the script, this explorative film finds LaBeouf looking back on his earlier years — both in early adulthood and as a child star — and his tortured relationship with his abusive father, who is played by the real Shia LaBeouf. It results in a visceral attempt to let the world see his life through his perspective, while also hoping to find a sense of closure from his restless years of torment.
The resulting film is a fascinating portrait of oneself, one that isn't entirely removed of vanity but one that is wholly willing to be raw, unflinching, and emotionally unreserved in a way we rarely see from Hollywood actors. And through Shia LaBeouf's transformative performance as his father, it's clear that Shia LaBeouf is using this movie as public therapy, as a means of trying to figure out his father's headspace and allowing himself to become the person who has wrestled inside his mind for decades. It is a brave, unnerving performance, and it is easily among his strongest, most revealing work.
American Honey
After years of outstanding acting work in lead roles, which could often go under-appreciated by the public, it was Shia LaBeouf's supporting turn in the acclaimed indie American Honey that provided the famous actor with his strongest performance at the time (and arguably still his best work). The road trip film from director Andrea Arnold finds LaBeouf driving around the country with newcomer Sasha Lane, and it's a stunning transformation. It can be easy to spend too much time focusing on his physical appearance, which includes a rat-tail haircut with shaved sides and a pierced eyebrow, it's ultimately his soulful, beguiling performance as Jake that allowed the actor to play up his charm, his depth, and his undervalued dramatic talents.
Serving as the elusive love interest for our lead character, Star, we need to believe that Shia LaBeouf's Jake is the type of man for whom a young woman would risk everything and run away with. We need to see his bad boy edge but his underlying soft demeanor. He sells it to us as well as he sells it to Star, while also making us aware that dangers could easily lurk in the future of these reckless characters. He is both forthcoming and rather dangerous, a seemingly sensitive man who ultimately has a dark side. It's a layered, vivid performance and a stunning showcase for Shia LaBeouf.
Fury
While Shia LaBeouf was continuing to prove himself as a dramatic actor through a number of independent films, it was his noteworthy performance in David Ayer's Fury that helped the general public to see Shia LaBeouf as a serious dramatic actor. A war ensemble piece also starring Brad Pitt, Logan Lerman, Michael Pena, Jon Bernthal, and several other talented performers, Fury is an accomplished, well-made, old-fashioned film bolstered both by its commendable filmmaking and its strong cast. But it's notably LaBeouf's scene-stealing performance as Boyd "Bible" Swan that got a lot of notice.
While the press made a big point of discussing Shia LaBeouf's intensive preparations for the role, which included cutting his face and pulling out one of his teeth to get into character, the performance itself stands out for the burning intensity and quiet humanity that haunts the character. As someone who is plagued by all the days fighting this ongoing war, you feel the weight, the sorrow, the frustration, and the torment that's seen in Shia Labeouf's eyes. It gives David Ayer's film a rugged sense of reality that helps to sell it and its gritty aesthetic. It greatly helps to earn Fury's dramatic pathos.
Borg Vs. McEnroe
While the film itself is a bit flawed, particularly with its uneven approach to its central athlete subjects, Borg vs. McEnroe is often burning with life whenever Shia LaBeouf is seen portraying the famously contentious professional tennis player, John McEnroe. Known for his hot temper and his profanity-laced tirades both on-and-off the tennis court, LaBeouf can seemingly relate to the ill-tempered athlete, one who is often the source of ill-will from the media's burning perspective. Rather than turn the public figure into a farce, LaBeouf searches for the personality in this public figure, hoping to showcase how the athlete's merciless desire for success and inability to accept failure turned him into a superstar but hurt his reputation.
It's easy to see why, from that perspective, Shia LaBeouf might relate to John McEnroe, especially as someone who has earned (justly and otherwise) his fair share of heat from the media. It's pretty note-perfect casting, even though LaBeouf doesn't look exactly like McEnroe, because he captures both the spirit and the inner life of this news-friendly sports figure, while also bringing a sense of grounded humanity and burning torment that could often be lost from the inflated headlines. It doesn't excuse his behavior, but it does a great job of recognizing who John McEnroe is and showing us why he acts the way he does. As it stands, it's another excellent performance from LaBeouf, one that's ultimately stronger than the shaky film it is in.
A Guide To Recognizing Your Saints
Before all the performances mentioned above came into existence, Shia LaBeouf was a former Disney star looking to branch out into the next phase of his career when he was cast in Dito Montiel's A Guide to Recognizing Your Saints (opens in new tab). Much like how Honey Boy allowed the actor to explore his own personal history, LaBeouf plays a younger version of the filmmaker in his film, a growing boy whose friends don't always make it out the other side.
This period piece coming-of-age tale is greatly benefitted from Shia LaBeouf's clear star power and exceptional talents as a leading man. For many folks, this performance was their chance to see what LaBeouf could do outside of Disney productions like Holes and The Greatest Game Ever Played. While it's not the strongest film to feature the actor, it's definitely a performance that shows us the early talent and dramatic potential of this soon-to-be superstar. Notably with Transformers and Disturbia released only one year later. This performance was an early taste for what we would get with these aforementioned dramatic roles. In fact, one could argue that A Guide To Recognizing Your Saints was the movie that paved the way for them.
These are only a few of the great dramatic roles we've gotten from Shia LaBeouf over the years. Hopefully, we can expect even more throughout the years, and if they're on par with a few of these recent roles, then we'll continue to see an actor on the rise. But hopefully, if you're still not completely sold on the talents of Shia LaBeouf, you will give these movies a chance and you'll get a good idea of what the star can do in a strong dramatic role.
Will is an entertainment writer based in Pittsburgh, PA. His writing can also be found in The Playlist, Cut Print Film, We Got This Covered, The Young Folks, Slate and other outlets. He also co-hosts the weekly film/TV podcast Cinemaholics with Jon Negroni and he likes to think he's a professional Garfield enthusiast.
Your Daily Blend of Entertainment News
Thank you for signing up to CinemaBlend. You will receive a verification email shortly.
There was a problem. Please refresh the page and try again.