Jared Leto Tweets, Then Deletes, The Possible Tron Sequel Title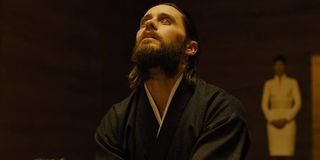 Though it lay dormant for some time, news about the Tron sequel, which we'll just call Tron 3, has been coming in at a fever pitch. Not only have we learned that Tron 3 is happening, it recently found a director in Lion's Garth Davis and a lead actor in Oscar winner Jared Leto. And now it seems we may have gotten a taste of the possible Tron sequel title thanks to a deleted tweet by Leto.
Jared Leto only just recently took to social media to announce that he is, indeed, involved in Disney's latest Tron sequel. Jared Leto also posted a tweet about his involvement in the Tron sequel possibly revealing the title and then deleting it immediately after. Turns out, some devoted fans took a screenshot and posted it on social media. Check it out:
If true, the possible title for Tron 3 could be none other than Tron: Ares. But since it hasn't been confirmed by the studio, it's probably best to take it with a grain of salt. For all we know this could be a project title. They could also end up changing the title later down the road. Either way, color me intrigued.
In fact, this might not be surprising for some devoted Tron fans. You may recall that Jared Leto had been circling a Tron project all the way back in 2017. Back then, it was revealed that Jared Leto would reportedly play a character named Ares and that the movie wouldn't be a direct sequel, but a remake of the Tron 3 script that was scrapped.
Since then, we've only got little trickles of information about a Tron 3 project. Garret Hedlund in 2018 said Tron 3 didn't materialize because of the issues Disney had with Tomorrowland. But even though it lay dormant in development hell, Tron: Legacy producer Justin Springer had hopes that the sequel would eventually reboot.
Of course, many Tron fans had high hopes that Tron 3 would be the reported Tron: Ascension, a script in the works by Tron: Legacy director Joseph Kosinski. Now, it's hard to say if that project is being retooled into the Jared Leto project or if Jared Leto's project is a totally different thing.
While Tron and Tron: Legacy have seriously devoted fanbases, neither film has been able to become the blockbusters Disney and many fans had hoped they would be. Tron: Legacy, for its part, had stunning special effects, a killer soundtrack, and solid performance by the whole cast, but still received lukewarm reviews.
That fact aside, you can't keep a science fiction franchise like Tron down for long, and whatever the title may end up being, it looks like this upcoming sequel involving Jared Leto is the real deal. I'm excited to see where this eventually leads. Fingers crossed that they will be able to get Daft Punk to score. Stay tuned to CinemaBlend for the latest news.
Your Daily Blend of Entertainment News
Your Daily Blend of Entertainment News
Thank you for signing up to CinemaBlend. You will receive a verification email shortly.
There was a problem. Please refresh the page and try again.