The Best New Movies Out Right Now, And How To Watch Them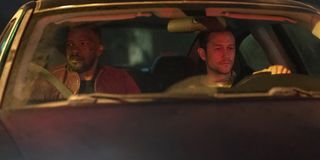 Thanks to the persistence of the COVID-19 pandemic, 2020 has been noticeably light when it comes to new films. With theaters around the country being closed, major studios have opted to delay the majority of their major releases either until the last few months of the year or until 2021, and unfortunately it has had the side-effect of creating a particular hunger among cinephiles. The silver lining is that we live in an age when streaming services exist and premium VOD releases are possible, and as a result there have been a number of titles in recent weeks that have been successfully satiating our appetites – including some excellent movies out right now.
Obviously not every release has been incredible, but if you've been wondering what to watch that's both good and new we've you covered. Looking back at the last month or so, we've compiled a list of the best of the fresh stuff out right now – providing entertainment for a wide variety of audiences.
I'm Thinking Of Ending Things (Jessie Buckley, Jesse Plemons, and Toni Collette)
Charlie Kaufman has been pretzel-ing the brains of cinephiles for more than two decades now, and his third venture as a director, I'm Thinking Of Ending Things, is his most mind-bending yet. On the surface it seems simple – tracking the journey of a young woman and her boyfriend as they travel to have dinner at his parent's house – but it devolves into surrealism and absurdity that questions the nature of reality. Rising star Jessie Buckley is particularly phenomenal, but enough good things can't be said about the work done by Jesse Plemons, Tony Collette and David Thewlis.
How To Watch I'm Thinking Of Ending Things: Netflix
Like Martin Scorsese and Alfonso Cuaron before him, Charlie Kaufman is the latest esteemed filmmaker to find a home for his work on the world's most popular streaming service. It's certainly a prestige title for Netflix (opens in new tab), so while you've probably been hearing a lot about it recently, you should expect that there will be plenty of reminders of its greatness as we get deeper into awards season.
Tenet (John David Washington, Robert Pattison, and Kenneth Branagh)
In his review of Christopher Nolan's Tenet, our own Sean O'Connell delivers the film five stars and notes admiration both for it being engaging and a balancing act of genres, calling it "a mind-blowing spectacle, a hold-on-by-your-fingernails thrill ride with subtle touches of wit, romance, suspense, tragedy, determination and cinema-driven awe woven throughout it." It's not quite getting the release that everybody imagined for it at the start of 2020, but there is a certain incentive to attend movie theaters provided that proper health and safety protocols are being followed.
How To Watch Tenet: Theaters
On that note, Tenet is the biggest release mentioned on this list that isn't available for in-home viewing. Certain states still have theaters shut down, so not everybody can enjoy the film presently, but if a big screen is open near you, it's probably showing Christopher Nolan's blockbuster.
Bill And Ted Face The Music (Keanu Reeves, Alex Winter, and Samara Weaving)
It took nearly three decades for it to get the green light, but Dean Parisot's trilogy-capper Bill And Ted Face The Music is really real, and now ready for your viewing pleasure. Following up on the adventures from the late 1980s/1990s, the film finds that its titular heroes (Keanu Reeves and Alex Winter) still haven't lived up to their fated potentials as rockers who inspire world peace. Tired of their mediocre lives, they come up with the idea of trying to steal the song from their future selves, and another wild time travel story begins.
How To Watch Bill And Ted Face The Music: Digital Retailers
Bill And Ted Face The Music is a film that held on to big screen aspirations for quite a while, but it was eventually decided that the best option for it would be a premium VOD release. The film is now available to rent or purchase from a variety of digital retailers.
The Personal History Of David Copperfield (Dev Patel, Hugh Laurie, and Tilda Swinton)
While there are a lot of reasons to be upset or depressed given the present state of the world, one of the joys of cinema is its wonderful escapist quality, and anyone watching Armando Iannucci's The Personal History Of David Copperfield would struggle to not smile ear-to-ear watching it. An adaptation of the classic Charles Dickens novel, it's a film that is delightfully optimistic and features one of the best casts of any movie out this year.
How To Watch The Personal History Of David Copperfield: Theaters
Other than Tenet, The Personal History Of David Copperfield is the only other title in this feature that is exclusively being shown in theaters. Like with Christopher Nolan's film, it's availability in your area is subject to closures, so check your local listings to learn about your options.
Class Action Park (Chris Gethard and Alison Becker)
What would happen if there was a waterpark that A) explored wild ideas for new rides, and B) wasn't big on enforcing rules. Well, two things: kids would have fun, and A LOT of people will get hurt. We know this because it isn't really a fantasy situation, but instead the story behind the notorious Action Park amusement park formerly located in Vernon, New Jersey. Directors Seth Porges and Chris Charles Scott III's documentary chronicles the rise and fall of the business, which is at times hilarious and heartbreaking.
How To Watch Class Action Park: HBO Max
Having only launched a few months ago, HBO Max (opens in new tab)'s catalog of original features isn't exactly extensive yet, but Class Action Park makes that particular list one title longer. The next big release for the streaming service will be the drama Charm City Kings, which will be available on October 8.
Project Power (Joseph Gordon-Levitt, Jamie Foxx, and Dominique Fishback)
With both Marvel and DC blockbusters like Black Widow and Wonder Woman 1984 being pushed because of the pandemic, it's understandable if you're having some superhero movie withdrawals, but the good news is that Henry Joost and Ariel Schulman's Project Power is available to tide you over. It doesn't quite have the scale of a big blockbuster, but it does have a great cast led by Joseph Gordon-Levitt, Jamie Foxx, and Dominique Fishback, and a great plot device in a drug that gives users a specific superpower for five minutes.
How To Watch Project Power: Netflix
With most action movies being delayed, Netflix (opens in new tab) in particular has done a great job filling the vacuum with titles like Extraction and The Old Guard, and Project Power is a nice addition to that streak. Like those other two features, it also seems like it has a pretty good chance of getting a sequel, so watching the movie now means that you can get in on the excitement and anticipation.
The One And Only Ivan (Bryan Cranston, Sam Rockwell, And Brooklynn Prince)
You know a film is sweet when it's able to tell a story that doesn't feature any kind of clear villain – and that's really the perfect word for Thea Sharrock's The One And Only Ivan. Skipping standard circus tropes, the film centers on a performing gorilla named Ivan (voiced by Sam Rockwell) who is inspired by the arrival of a baby elephant (Brooklynn Prince) to seek his freedom. It's definitely a tear-jerker for any and all animal lovers, so be sure to have tissues handy.
How To Watch The One And Only Ivan: Disney+
The original plan for The One And Only Ivan was to have it be a summer theatrical release, but world events led to a pivot and a decision to launch it as a Disney+ exclusive (opens in new tab). If you don't have an account but are planning on signing up for the streaming service to check out the upcoming launch of The Mandalorian Season 2, you should check this one out.
Do you have recommendations of your own? Have you seen any of the films mentioned in this feature and possess thoughts regarding your personal perception of their quality? Let yourself be heard in the comments section, and, as always, be sure to stay tuned here on CinemaBlend for all of the latest news regarding new releases in Hollywood.
Your Daily Blend of Entertainment News
Assistant Managing Editor
NJ native who calls LA home and lives in a Dreamatorium. A decade-plus CinemaBlend veteran who is endlessly enthusiastic about the career he's dreamt of since seventh grade.
Your Daily Blend of Entertainment News
Thank you for signing up to CinemaBlend. You will receive a verification email shortly.
There was a problem. Please refresh the page and try again.