Scream's David Arquette Takes 'Full Responsibility' For One Criticized Element Of The Franchise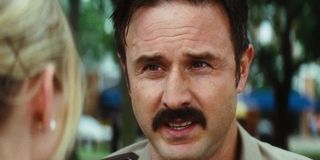 The Scream series is one of the most beloved horror franchises of all time. Its combination of slasher scares and pop culture references made it a near-instant classic in the 1990s, and the movies have held up to this day. That's not to say the series is perfect -- and it turns out Scream star David Arquette is more than happy to take responsibility for one of the things fans have criticized the most.
Scream fans were excited to learn that David Arquette has joined the cast of Scream 5. After all, his character -- the bumbling but sweet Dewey Riley -- is definitely a fan-favorite. Because he's been a part of the franchise since day one, David Arquette definitely has some good insider stories, including behind-the-scenes intel about some of the creative choices -- both popular and unpopular -- that have been made.
By and large, Scream 3 is not a fan (or critical) favorite. The plot is a little convoluted, and it just didn't resonate with audiences the same way the first two films did. Released in 2000, it's also been noted for featuring some of the weirder styling choices -- including a bizarre haircut for Courtney Cox's Gale Weathers.
To this day, fans are very "WTF?" about the short and choppy bangs that she sported in Scream 3. And it turns out the actress's then-husband is actually to blame for the horrific haircut. David Arquette told ET:
Okay, so that explains it. It's also hard to fault him completely because he was trying to be helpful, at least. It's probably safe to say that David Arquette won't have as much of an influence over Gale's 'do when Courtney Cox returns alongside him in Scream 5. The actors divorced in 2013 -- though, he told ET, they stay in touch as they co-parent their children, and he's looking forward to sharing the screen with her again.
It's too early to say who the rest of their co-stars will be. The cast for Scream 5 is still being finalized, and we're hoping a few more familiar faces will join the fray. However, it looks like the latest installment in the franchise could be arriving some time in 2021 so, hopefully, we won't have to wait too long before we get a glimpse of our favorite Scream characters (and their hopefully less-weird haircuts) again.
Your Daily Blend of Entertainment News
Your Daily Blend of Entertainment News
Thank you for signing up to CinemaBlend. You will receive a verification email shortly.
There was a problem. Please refresh the page and try again.