The Huge Number Of COVID-19 Tests Jurassic World Dominion Has Gone Through So Far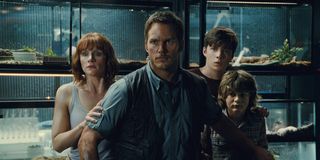 After a prolonged break in production due to the pandemic, Jurassic World: Dominion's cast and crew are back on set. It's exciting news for fans of the franchise but, of course, there are questions as to how the studio will be able to keep everyone safe. That's why it's encouraging to hear how many COVID-19 tests have been given to the Jurassic World team since they got back to work.
Before Jurassic World: Dominion even resumed filming in England, the cast members were hinting at the safety protocols they'd encounter when they returned to set. Jeff Goldblum revealed that the list of rules and regulations regarding filming was more than 100 pages long. Though he didn't go into detail, we've since learned some of the exact steps that have been taken to create a safe environment.
The New York Times has reported that the Jurassic World: Dominion team has spent approximately $9 million putting safeguards in place. That money has gone toward renting out an entire hotel for the cast and crew to quarantine in for the remainder of the shoot. They have also established 150 hand sanitizing stations around the set and ordered roughly 18,000 COVID tests.
Other precautions include the creation of a "Green Zone" on set, which is cleaned via an antiviral mist before every use. It's reserved only for director Colin Trevorrow, the cast, and other essential crew members. That area is equipped with a resting area and several sinks where personnel are required to wash their hands.
Green Zone crew members are tested for COVID-19 three times a week. The rest of the crew, who are able to wear more extensive protective gear, are tested as well, albeit at a less frequent rate.
Finally, the cast of Jurassic World: Dominion has become more hands-on in terms of prep work for shooting. For example, the cast members like Bryce Dallas Howard are now responsible for placing their own mics on their bodies. She told The New York Times:
According to the NYT, the cast and crew had about 20 weeks of production left on Jurassic World: Dominion when they resumed filming. While it's impossible to predict whether they'll be able to complete the production without any issues, there is evidence that it's impossible to film a movie successfully under quarantine.
If all goes well, Jurassic World: Dominion may still be on track to hit theaters in June 2021. Until then, keep an eye on our 2020 movie release guide for all the latest updates.
Your Daily Blend of Entertainment News
Thank you for signing up to CinemaBlend. You will receive a verification email shortly.
There was a problem. Please refresh the page and try again.