Jurassic World: Dominion's Jeff Goldblum Reveals Safety Precautions Taken To Resume Filming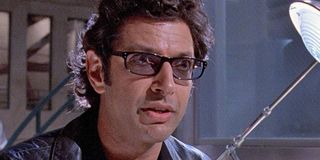 At the moment, there's still a lot of uncertainty surrounding movie production. Some movies, like Jurassic World: Dominion, have resumed filming, despite the ongoing pandemic and continued rise in case, though. That might make some fans nervous, but Jeff Goldblum has shared some of the details surrounding how Universal is keeping the cast and crew safe on set.
Jurassic World: Dominion first shut down production in mid-March as the COVID-19 pandemic was beginning to spread. Director Colin Trevorrow made the best of his time in quarantine, editing the footage they'd already compiled, while the cast and crew waited eagerly for the day they could get back to work. Now, production has finally resumed and, though it has to be a little bit nerve wracking for those involved, it seems as though the cast of the film has been notified about the safety measures that will be in place.
One of the franchise's original stars, Jeff Goldblum, told ET that the plans for restarting production are very (very!) thorough:
Despite the lack of explicit detail surrounding how the Jurassic World: Dominion set will be kept safe, Jeff Goldblum's confidence in the steps they're taking should help set some minds at ease. He also confirmed when he and the rest of the cast will be called back to set:
At the moment, it's hard to say for sure when Jurassic World: Dominion will be able to wrap production. There have already been rumors that production had to be shut down again. While they were quickly dispelled, unfortunately, no one can say with total certainty that won't be the case in the future. Still, we know that it's possible to film a movie even in the midst of a pandemic and have everyone stay safe.
It's also unclear whether or not the delays in filming will mean that Jurassic World: Dominion's release date will have to be pushed back. While many films have been pushed back due to COVID-19, in most cases, it wasn't because they weren't ready to be seen, but because it hasn't been safe to go back to movie theaters. We'll have to see what happens.
Jurassic World: Dominion, which not only has Jeff Goldblum reprising his Jurassic Park role, but Sam Neill and Laura Dern -- and maybe a few others as well -- is currently scheduled to hit theaters on June 11, 2021.
Your Daily Blend of Entertainment News