Judas And The Black Messiah: 7 Things To Know Before You Watch The Fred Hampton Film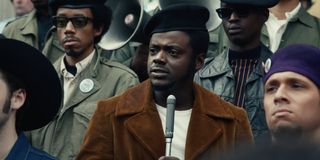 Earlier this month, Warner Bros. unveiled the outstanding first trailer for Judas and the Black Messiah, an upcoming awards season biopic starring Daniel Kaluuya as Black Panther Party Chairman Fred Hampton and Lakeith Stanfield as FBI informant William O'Neal. Watching this first look at this upcoming drama, there's no doubt that the studio has major Oscar hopes for this promising movie. It's not hard to see why. This true-life story is a relevant, engrossing tale about a U.S. revolutionary who met a tragic end. If the film is done well (which looks likely, considering all the great talent involved), we could be looking at a very timely and meaningful historical account, especially in our current political landscape.
Currently, Judas and the Black Messiah is planning a theatrical debut in January 2021. Before its anticipated release, here's what you should know about Hampton's life story.
Also, please note that these real-life details may be considered spoilers for this new film — particularly if the story doesn't take too many liberties with the historical facts.
The Story Follows William O'Neal, An FBI Informant Who Infiltrates The Black Panther Party
The plot of Judas and the Black Messiah follows William O'Neal, played by Lakeith Stanfield, a petty criminal who is offered a plea deal to work as an informant for the FBI — specifically, in their efforts to infiltrate the Illinois chapter of the Black Panther Party and gather intelligence on Black Panther Party Chairman Fred Hampton, played by Daniel Kaluuya. The goal of the FBI was to silence Hampton and the Black Panther Party. Now, 50 years later, the filmmakers behind in this much-anticipated new Oscar hopeful want to bring the Chairman's words back into focus, particularly as they ring as true now as they did when they were first spoken.
Shaka King Directs The Film, Which Stars Daniel Kaluuya, Lakeith Stanfield, Ashton Sanders, Dominique Fishback, And More
Judas and the Black Messiah comes courtesy of co-writer/director Shaka King, making his most high-profile project to date. Previously, the filmmaker helmed 2013's indie dramedy Newlyweeds, while also directing episodes of HBO's High Maintenance, Hulu's Shrill, and TBS' People of Earth, and writing episodes of HBO's Random Acts of Flyness.
The studio drama is also benefitted by an excellent ensemble, which includes Daniel Kaluuya, Lakeith Stanfield, Ashton Sanders, Dominique Fishback, Jesse Plemons, Martin Sheen, Lil Rel Howery, Jermaine Fowler, and more. It also comes from producer Ryan Coogler, the filmmaker behind Fruitvale Station, Creed, and, most recently, Black Panther. It'll also have a sharp presentation courtesy of cinematographer Sean Bobbitt, the bright eye who shot Shame, The Place Beyond the Pines, 12 Years a Slave, Widows, Stronger, Spike Lee's Oldboy remake, and more.
Daniel Kaluuya Plays Fred Hampton, The Chairman Of the Illinois Chapter Of The Black Panther Party
Following his Oscar-nominated lead performance in Jordan Peele's phenomenal Get Out, Daniel Kaluuya continued to find success with exceptional performances in Widows, Black Panther, and Queen & Slim. Now, Kaluuya receives one of his most high-profile roles to date playing Fred Hampton, the chairman of the Illinois chapter of the Black Panther Party. While there were a few criticisms made across the web about the British actor playing an American revolutionary, director/co-writer Shaka King defended his casting decision by claiming these complaints represented "a diasporic way of thinking." We look forward to seeing Kaluuya's portrayal of the late Hampton, as we expect it to be another extraordinary performance from this actor.
Fred Hampton Negotiated A Truce Between His Group And Two Rival Gangs, Gaining Recognition And Attention
Fred Hampton was a charismatic, passionate, and outspoken activist who electrified and energized, particularly during his speeches. Born in the suburbs of Chicago, Hampton's early achievements included a successful campaign to have a non-segregated pool for young people built in his town and a student protest against a policy that only allowed white women to be nominated as homecoming queen in high school. When he joined the Illinois Black Panther Party, Hampton gained attention when he negotiated a peace pact among two rival gangs. It became apparent that Hampton had what it took to be a confident and compelling leader, particularly as he was gaining recognition and attention as such. His rise in popularity, however, also gave way to the FBI's intense interest and notice in his personal life and his ongoing political ambitions.
J. Edgar Hoover Issued A Directive To Prevent The Rise Of A 'Messiah', Hence The Title Of The Movie
Throughout the '50s and '60s, the FBI feared what they called the "Black Messiah," which referred to someone who would capably inspire and lead the Black nation, which could cause a change in the status quo. These concerns were directed at Malcolm X, Martin Luther King, Huey Newton, and Fred Hampton, the subject of this new movie. The term "Black Messiah" comes from J. Edgar Hoover, the head of the FBI, which claimed in a directive that the Federal Bureau of Investigation intended to "prevent the rise of a 'messiah' who could unify and electrify the militant black nationalist movement." This is what inspired Judas and the Black Messiah's title — in part. The "Judas," in this scenario, seems designated to FBI informant William O'Neal.
A Raid By The FBI And Chicago In 1969 Turned Fatal With Fred Hampton's Passing
As the events in this film may demonstrate, the battle between Fred Hampton and the FBI lead to Hampton being killed in a co-ordinated raid between the FBI and the Chicago Police in 1969. William O'Neal became an insider to the point where he was in charge of Hampton's security and held keys to the Black Panthers' safe houses. With this information, O'Neal supplied the bureau with the plans to Hampton's west-side apartment. This is where the ultimately fatal raid took place, as O'Neal slipped a powerful sleeping drug into Hampton's drink and the FBI were dispatched to raid the place. Hampton died in his bed at age 21, while the police claim the Panthers opened fire and retaliated. The Panthers saw the raid as a pretext for killing Hampton.
Producer Ryan Coogler Says Fred Hampton's Story Becomes 'More Relevant With Context'
In an interview with the BBC shortly after the trailer was released, producer Ryan Coogler talked about his involvement in this new movie, which he joined quickly after he made Marvel's Best Picture-nominated Black Panther, and why he felt compelled to make this movie with co-writer/director Shaka King. As Coogler notes, this story has "become more relevant with context," and he wants to tell a story from our past which remains very relevant and necessary to hear today. Here's what the filmmaker said:
Judas and the Black Messiah is expected to hit theaters in early 2021. We'll keep you posted on the latest details regarding its anticipated release right here at CinemaBlend.
Will is an entertainment writer based in Pittsburgh, PA. His writing can also be found in The Playlist, Cut Print Film, We Got This Covered, The Young Folks, Slate and other outlets. He also co-hosts the weekly film/TV podcast Cinemaholics with Jon Negroni and he likes to think he's a professional Garfield enthusiast.
Your Daily Blend of Entertainment News
Thank you for signing up to CinemaBlend. You will receive a verification email shortly.
There was a problem. Please refresh the page and try again.