Star Wars Alum John Boyega Has Blunt Thoughts For Toxic Star Wars Fans On Social Media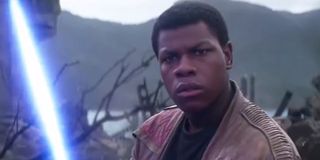 John Boyega and Star Wars fans have a storied history of social media interactions. The actor has never been afraid to speak his mind or defend himself when he feels fans cross a line. That's led to a few tense exchanges over the years. Now, as he's made it clear he's ready to move on to the next phase of his career, John Boyega has also doubled down on where he stands with toxic fans on social media.
In the past few years, John Boyega has taken heat from Star Wars fans on Twitter over a few different issues -- including his trolling of Reylo stans. However, it's been a little while since he directly engaged with the fandom, so it may have been a little surprising to some to see him directly call out those who've recently harassed him:
In case they didn't get the message the first time, he quickly followed his tweet up, doubling down:
John Boyega didn't stop there, though. He had a good time engaging with a couple of fans who weighed in on the matter. He retweeted one delightfully NSFW response and also responded to another fan of the franchise (but definitely not the sequels) - who seemed to be making his point for him:
He really couldn't have been clearer about the fact that he's done dealing with harassment. It's also probably safe to say that John Boyega probably didn't endear himself to some of the fans he was calling out -- but, that really wasn't the point of his tweets, anyway.
Since The Rise of Skywalker hit theaters last December, John Boyega has done a lot of reflecting on his time with the Star Wars franchise. While he's clearly grateful for the experience he had playing Finn, he's also interested in taking on new challenges in his career -- and he's not shy about saying so. While he recently expanded on a comment he left on Instagram, he's still not backing down from his assertion that he's not keen on returning to Star Wars any time soon.
So it makes sense that he would be just as eager to put his contentious past with the fandom behind him, too. To be fair, he has some more pressing matters to deal with besides arguing with fans about plot points in a galaxy far, far away.
Earlier this year, he made headlines for his impassioned support of the Black Lives Matter movement. He's also making some exciting new career moves, including a new BBC series. So all in all, it can definitely be said that John Boyega doesn't really have time to engage with toxic fans of his former franchise.
What do you think about John Boyega's most recent Twitter statements? Let us know in the comments!
Your Daily Blend of Entertainment News