Looks Like Star Wars' John Boyega Really Has 'Moved On' From The Franchise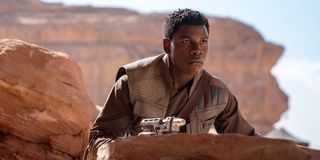 John Boyega has shown in the past couple of years that he's willing to speak his mind, and that includes being honest about the highs and (Rey)lo's he's experienced during his tenure with the Star Wars franchise. For those who've been following along, it probably won't come as a surprise to learn that he's not really eager to return to the series -- however, from the looks of things, it appears he's already moved on entirely.
It all started when the actor posted a photo of himself in a make-up chair -- and full protective gear -- announcing to his fans on Instagram that he's back on set. He then proceeded to answer fans who left comments on the post, including one who expressed a desire to see him reprise his role as Finn in the next Star Wars movie. His response was polite, but firm:
In other words, it sounds like it's a no from him on any future Star Wars related appearances. This news feels pretty inevitable, to be honest. The actor hasn't ever exactly slammed the franchise, but he's also been outspoken about the downsides to working on the franchise. That includes voicing his own lack of satisfaction with some of the creative choices made in The Last Jedi. He's also been vocal about responding to fans online who've taken issue with him expressing his wish that Finn and Rey had ended up together. That has led to more than a few intense exchanges on Twitter.
Having said that, it definitely doesn't seem to be the case that he had a completely negative experience. He recently shared that he's started taking time to reflect on the incredible whirlwind his life has been since he was first cast in Star Wars: The Force Awakens. He talked about pouring over his Star Wars memorabilia and thinking back on the rollercoaster of a journey he's had over the course of the three Star Wars films he starred in.
The unique pressure of being a part of a global phenomenon has to be challenging so, if John Boyega wants to move on from that and focus on new aspects of his career, that makes sense. He's not alone in that regard -- Oscar Isaac, for example, has been pretty clear he's ready to move on from his days as Poe Dameron, too.
It seems like John Boyega has had plenty to keep him busy in his post-Star Wars world, too. He recently made headlines by inspiring millions around the world, including his fellow Star Wars alum, with his political activism.
John Boyega is also making some big career moves. First up is Small Axe, the BBC series he was back on set for when he shared his latest news. He also has a few other projects in the pipeline, including the recently announced thriller Borderline.
Your Daily Blend of Entertainment News