Janelle Monae's Antebellum Reviews Are In, Here's What Critics Are Saying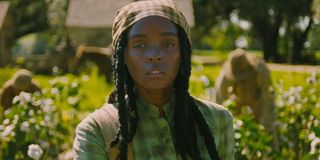 We live in interesting times, which is the understatement of the year to be sure, but it puts us in an interesting place for a unique film. Antebellum is the new horror movie starring Janelle Monae, which deals with the horrors of slavery, and such a film coming out during a period where racial justice is at the forefront of so many people's minds certainly feels prescient. However, while the movie has a strong performance by its lead, and does deal with some compelling issues in interesting ways, most critics seem to be of the opinion that Antebellum comes up short.
One of those critics left underwhelmed was CinemaBlend's own Eric Eisenberg. He gave the movie 2.5 stars out of five and felt that, while the themes of the movie were worthy and powerful, the structure of the story delving into those themes left much to be desired. Eric's review says in part...
Antebellum focuses on Janelle Monae as a slave working in the pre-Civil War American South, thus the title of the film. However, if you've seen the trailers for the movie, you'll know that there is a modern-day element to the film as well. How these two stories fit together is the puzzle the movie wants the viewer to try and solve, and while most critics commend the attempt, they also largely, as with Slashfilm, don't think that the screenplay really works to put the pieces of the puzzle together in a way that works...
Antebellum is a movie that deals with some complex topics in addition to its central mystery storyline. A mystery that keeps you guessing, but ultimately comes together in a way that everything makes sense, can be immensely satisfying, as can a film that makes you think about broader topics after the story is over. However, Nerdist is of the opinion that Antebellum only scratches the surface of any of these things...
The general feeling on Antebellum seems to be one of disappointment, as the film potentially has a lot going for it that it simply fails to execute on well. However, Polygon, has a somewhat different take, finding little redeeming about the film at all and calling it easily the worst film of the year so far...
And likewise, there are the outlier reviews that find Antebellum to be exactly the movie that it was clearly trying to be. Variety is one of those, which states...
So overall, there's a feeling that Antebellum doesn't quite add up, but few seem to find the film with nothing worthwhile, so perhaps it's a movie worth seeing, even if not everybody is going to love it. Originally planned for theaters, Antebellum will arrive on VOD beginning September 18.
CinemaBlend's resident theme park junkie and amateur Disney historian. Armchair Imagineer. Epcot Stan. Future Club 33 Member.
Your Daily Blend of Entertainment News
Thank you for signing up to CinemaBlend. You will receive a verification email shortly.
There was a problem. Please refresh the page and try again.