One Director Still Wants A Crack At Stephen King's The Dark Tower Despite Last Movie's Flop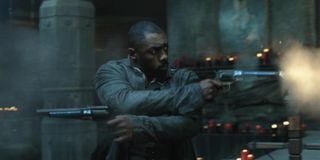 Over his long career as a writer, Stephen King has had a lot of his books adapted into movies and TV series, with some being great, and some not so great. However, out of all of them, The Dark Tower has long been a coveted project to tackle. Sadly, when The Dark Tower was adapted for the silver screen, it didn't do so well. Despite that, one filmmaker wants to take his own crack at the story.
That filmmaker is none other than horror writer and director Mike Flanagan, known for doing a bang-up job adapting Stephen King's Gerald's Game and Doctor Sleep. He recently spoke with Syfy about several of his projects, including The Haunting at Bly Manor, and admitted that his dream Stephen King project would be The Dark Tower. Here's what Flanagan said:
Indeed, next to Stephen King's The Stand, The Dark Tower is often hailed by fans as one of his crowning achievements. But with that praise comes a tremendous amount of pressure to get the story right.
On top of that is the fact that The Dark Tower series consists of eight very dense books. While things start out fairly simple in the first book with Roland Deschain chasing after The Man in Black, the subsequent books add many more layers, creating a very complex narrative. Simply to say, it's no small feat to adapt the series.
When Mike Flanagan says people put a lot of effort into adapting The Dark Tower, he means it. The Dark Tower adaptation, written by Akiva Goldsman and directed by Nikolaj Arcel, had a long and arduous journey that goes all the way back to 2007, when Damon Lindelof and J.J. Abrams were attached. They eventually left the project and it went to Ron Howard. The movie released in 2017 to poor reviews and box office results.
All that to say, successfully adapting Stephen King's books is hard, especially a behemoth like The Dark Tower. But Mike Flanagan so far seems to have cracked the Stephen King code. He also has a third Stephen King adaptation lined up with Revival. If there's one director to handle a project like The Dark Tower, I'd wager Mike Flanagan would aim true, remember the face of his father and hit the target dead center. Should he get that chance, we here at CinemaBlend will let you know.
Your Daily Blend of Entertainment News