A History Of Problems With Stephen King's The Dark Tower Adaptation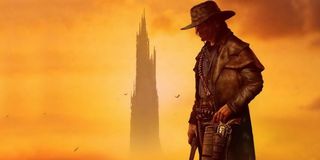 "The man in Black fled across the Desert and the Gunslinger followed." This is the first sentence of Stephen King's The Gunslinger, the first novel in the author's eight-book fantasy series, The Dark Tower, which remains one of the prolific best-selling writer's most expansive accomplishments. While King has hung his cowboy hat with this franchise, focusing this time on other novels and literary adventures, Hollywood remains eager to bring King's franchise to the screen. Alas, while Hollywood has adapted no shortage of Stephen King novels, Hollywood has not followed their success when it comes to The Dark Tower. Although several Stephen King adaptations become enormously successful, The Dark Tower has still been left in the dark.
One would think it would be a slam dunk to turn this popular Stephen King fantasy property into the next Lord of the Rings or Game of Thrones. Alas, The Dark Tower has not been fortunate in either its film adaptation or in any of its other past adaptation attempts. That unfortunate tradition continues with the recent news that Amazon has opted not to move forward with their streaming adaptation of King's fantasy series. This represents yet another hurtle for book series' long-troubled journey to be brought — justly — onto the screen. Let's take a look at the history of The Dark Tower's problems.
In 2007, J.J. Abrams and Damon Lindelof Were Attached To Bring The Dark Tower To The Big Screen
The Gunslinger was first published in 1982, with the subsequent sequels being released in 1987, 1991, 1997, 2003, and two in 2004, respectively. As the book series winded down to its conclusion, Hollywood saw an opportunity — particularly after the worldwide critical/commercial success of the Lord of the Rings trilogy — to turn these novels into the next major blockbuster franchise. Alas, The Dark Tower didn't come together quite so easily.
In early 2007, screenwriters Damon Lindelof and Carlton Cuse, and J.J. Abrams were attached to the project. Lindelof would pen the first screenplay, while Abrams would produce/direct the adaptation, respectively. Granted, this is before these high-profile filmmakers would be at the helm of projects like Star Wars, Star Trek, and Watchmen, to name a mere few. This is when these guys were best known for their work on Lost, and Cuse and Lindelof reportedly got the rights to The Dark Tower for a reported $19 (dollars, not million), which was symbolic. The movie adaptation was meant to kickstart a series of films, and Stephen King had great trust in these young filmmakers. The plan was to work on this series once Lost finished its run. When the show neared its big finale, though, Lindelof revealed his apprehensions towards taking on this massive project so shortly after wrapping up Lost.
As Damon Lindelof noted in an interview in October 2009 with USA Today (opens in new tab), the screenwriter admitted to being a big fan of the books, but he wasn't willing to commit to this project at this time. He was also afraid of "screwing it up." He wanted to see the project realized, but he wasn't willing to be committed to the project. Shortly after Lindelof revealed his exit from the epic would-be film franchise, J.J. Abrams revealed he left the project as well.
Ron Howard Came Abroad The Dark Tower In 2010, Hoping To Turn The Book Series Into A Trilogy Of Films And A TV Series
While The Dark Tower's film prospects received a major blow when Damon Lindelof and J.J. Abrams stepped away from the project, the property did not stay dormant for long. Indeed, in 2010, just a mere few months after it was announced that the Lost creatives were no longer attached, Universal came abroad the project with big aspirations. Specifically, they not only wanted to turn The Dark Tower into a trilogy of films but the studio was also looking to turn it into a television series as well, one that would air two seasons of television that would fill the void between each movie installment.
Even in our era of streaming and high-profile television, that's a mighty big gamble. Therefore, this epic plan for The Dark Tower's much-anticipated medium-stretching adaptation was an even riskier endeavor ten years ago. Nevertheless, Ron Howard was on board as a director, Stephen King and Howard's long-time creative partner Brian Glazer were attached as producers, and screenwriter Akiva Goldsman, who wrote A Beautiful Mind for the Oscar-winning filmmaker, was attached to put ink to paper in this adaptation of King's beloved novels. There were also talks of getting Javier Bardem and Viggo Mortensen involved to play the main character, while Naomie Harris was also circling the project. In an interview, Howard also clarified that the hopes were to make an action-intensive first feature film, followed by a six-part mini-series to usher in the tide between the first and second films.
In 2011, the project was moving forward, though it was also facing trouble. While Javier Bardem was being cast in the lead role, Universal was having trouble rounding up all the funds to bring this massive-scale project to the screen. The budget was lowered, but the project continued forward. While the production was hoping to begin in the summer of 2011, the plans got pushed back to 2012 before Universal decided to stop the project altogether. It appears that the budget was simply too astronomical to move ahead, and the film-TV plans were much larger than Universal was willing to gamble.
Warner Bros. And HBO Get Involved With The Dark Tower
While The Dark Tower received another setback when Universal cut ties with the Stephen King property, it wasn't entirely doom-and-gloom at this point. Ron Howard still had an invested interest in the adaptation, shopping it around town to a bunch of different places, including Netflix, before Warner Bros. expressed interest and then later agreed to take it under their wing. Additionally, before this happened, HBO had expressed interest in taking on the television portion of the story. With these two big league production houses agreeing to commence with the project, it moved forward once more.
Akiva Goldsman began working on a new screenplay for Warner Bros., while Russell Crowe was being discussed to play the lead role. Alas, while the Dark Tower adaptation was still moving forward with interest, WB also started to lose faith in the project. In August 2012, they officially bowed out. But that wasn't the end for the project. Media Rights Capital (MRC) expressed interest to take over this massive project in 2014, with Aaron Paul and Liam Neeson being pursued for lead roles. Shortly thereafter, in 2015, it was revealed that Sony Pictures Entertainment was eager to fast-track the film.
Sony Moves Forward With The Dark Tower, And They Finally Bring The Stephen King Adaptation To The Silver Screen
While Universal and Warner Bros. were hesitant about making The Dark Tower under their banners, Sony Pictures Entertainment pushed forward with no caution in the first half of 2015. They were quick and eager to make this fantasy franchise a big screen blockbuster property, but there were major changes. Akiva Goldsman stayed involved as a screenwriter, but he was now joined by Jeff Pinker. Meanwhile, Ron Howard was no longer attached as a director, replaced by Nikolaj Arcel (A Royal Affair). It was a swift turn of events, as the project was being geared for an early January 2017 release. Then, it wasn't long before Matthew McConaughey signed on as The Man in Black. Shortly thereafter, Idris Elba came on-board as Roland Deschain.
Eventually, The Dark Tower was slightly pushed back to a February 2017 release date, but it was moving forward full speed ahead. Casting was being finalized, while production was set to commence in April 2016. After nearly ten years of false starts and delays, The Dark Tower was finally being built and it would get its day on the big screen. Alas, as the movie was being made, that revealed itself to be less of a blessing and more of a curse.
The Dark Tower Is Released, Receiving Dire Reviews From Critics And Fans, And It Was Not A Box Office Hit
As production commenced and post-production followed, The Dark Tower faced its first signs of trouble. Test screenings proved to be disastrous, and Sony was thinking about cutting Nikolaj Arcel from the film. But producer Ron Howard and screenwriter Akiva Goldsman adopted an advisory role for the director as they tried salvaging the project. Alas, it wasn't fruitful. The movie was released on August 4th, 2017, which was several months after it was initially scheduled to arrive, and the reviews weren't kind. The changes to the narrative weren't satisfying to the fans, and the story became incoherent to audiences who weren't familiar with the narrative beforehand. Additionally, the blockbuster did not earn a lot of money at the box office.
While the performances from Idris Elba and Matthew McConaughey were well-received, The Dark Tower was widely panned for being a bland, dull, and generally incomprehensible adaptation of Stephen King's exciting series of fantasy novels. Alas, after years of false starts, the movie's reception proved to be a grave disappointment, and one that stung for the people involved. Notably, Ron Howard recently spoke out about his disappointment.
Amazon Options The Rights To The Dark Tower To Turn It Into A TV Series, But They Decide Not To Move Forward After The Pilot
After The Dark Tower proved to be a critical and commercial disappointment, Sony wasn't eager to pursue their franchise plans with Stephen King's property. But there were many fans hoping that the fantasy series would be given a second chance, notably as a television series. The story was so expansive and filled with flourishes, characters, and timelines that it would be hard to compress it into a single set of films. Instead of doing a mix of movies and shows, however, people were thinking it was time to tackle this property strictly as a TV series, especially with Game of Thrones on the verge of wrapping up. Seemingly, Amazon answered those prayers. In 2018, Amazon announced their plans to turn these novels into a big TV show.
Casting went underway, with Michael Rooker and other cast members attached to the project. Alas, it wasn't meant to last. It was announced earlier this month that Amazon was not pursuing the project, though the producers were ultimately looking to shop the project around to potential services.
Where The Dark Tower will go from there remains unknown. The series has faced its fair share of tumbles, and it hasn't made it out on the other side just yet. Perhaps the time will never come when The Dark Tower is given the adaptation it deserves. Maybe we're a few short years away from it happening. It's hard to say for certain. Based on this timeline, though, it's apparent that many people have tried to bring this property onto the screen — though it resulted in little-to-no success in the long run. Hopefully, though, it'll follow in the footsteps of other Stephen King adaptations and finds its success.
Will is an entertainment writer based in Pittsburgh, PA. His writing can also be found in The Playlist, Cut Print Film, We Got This Covered, The Young Folks, Slate and other outlets. He also co-hosts the weekly film/TV podcast Cinemaholics with Jon Negroni and he likes to think he's a professional Garfield enthusiast.
Your Daily Blend of Entertainment News
Thank you for signing up to CinemaBlend. You will receive a verification email shortly.
There was a problem. Please refresh the page and try again.