4 Things Disney's Live-Action Mulan Does Better Than The Original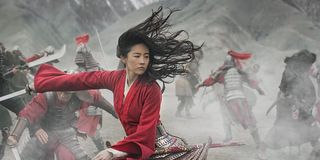 (Image credit: (Disney))
Some SPOILERS are ahead for Disney's live-action remake of Mulan.
After a number of theatrical delays, Mulan is here, though not in theaters sadly. It's currently available for exclusive digital access for $30 until November and will reach all Disney+ subscribers later this year. Since the movie has been in production, there has been much discourse surrounding the film's choices to diverge away from the animated version more so than Disney's other slew of recent remakes, including The Lion King and Beauty and the Beast. Like many faithful fans of the original, I grew up in the thick of the Disney Renaissance and revered these titles as true cinema as a kid. Yes, I love Mushu and "I'll Make A Man Out of You" may or may not still be on my workout playlist.
In other words, I still love 1998's Mulan and I don't particularly want to get into the conversation about which film is better as a whole. They each came out at different times, serve their own purposes and should be appreciated in their own corners of Disney's library. Seeing this movie actually made me appreciate the original version in new ways and gave me nostalgia for it in a unique way that didn't take away from my viewing of this new movie. You can read my review of Mulan, and I highly recommend seeing what other critics think as well. Here, I'd like to talk about the aspects of 2020's Mulan where I thought Niki Caro's film improves upon the 1998 source material.
Mulan's Relationship With Her Father Has Improved
When you look back on the original Mulan, the heroine's father really just wants her to fit into her role assigned to women and match with a suitor. He prays to his ancestors she will and seems annoyed and disappointed with her until she proves herself at the end of the film. But in 2020's version, there's a better established relationship between Mulan and her father, Zhou (played by Tzi Ma). He actually narrates the film, which brings an inherent warmness to the two of them.
As shown early on, it looks like Zhou treated his daughter like his son, training her with the knowledge of a warrior. This only starts to bring "harm" to her when she becomes a woman and her mother talks with her husband, showing her distress about Mulan perhaps not finding a match. Zhou listens to his wife and goes along with it, leading to her being met by the matchmaker, but we learn it's actually in her nature and upbringing to want to be a warrior like her father. And when she does, he realizes he shouldn't have placed her in a box once she reached womanhood.
Mushu Who? She Doesn't Need Much Help From The Ancestors
Just going to repeat myself one more time: I LOVE Mushu! Eddie Murphy is hilarious and I did miss some of the more comedic elements the character brought to the original movie. But that's what the original is for! If I want to see Mushu, I'll go back to the animated version, and I thank the producers of 2020's Mulan for not replacing Mushu with Will Smith or creating a funky CGI version of him. It's really just a pat on the back by itself that the studio decided to ditch the animal sidekick for once, and it brings more power to the character of Mulan.
At the time the original Mulan was made, there was an idea that Disney characters needed to find support with some form of mystical character, and having Eddie Murphy on the call sheet helped sell the film. But, the story of Mulan is incredible too without the comedic elements. A phoenix shows up in the film a few times as a voiceless guide of her ancestors to give her support. But Mulan's strength lies in herself and she doesn't need the little dragon by her side to save China.
The Villains Motivations In Mulan Actually Make Sense
Disney has a pretty legendary track record with villains, but honestly, Mulan's original baddie is just frightening and one-dimensional. Shan Yu is effective in being a terrifying villain for Mulan to face, but that's pretty much it. Here's where 2020's Mulan steps up to the plate. In this version, there are two villains: Jason Scott Lee's Bori Khan and Li Gong's Xianniang. Bori Khan is overrun by the vengeance he feels about the death of his family at the hand of the Emperor (Jet Li) and is hungry for power. Xianniang is a powerful witch who is serving his plan after being exiled and outcast due to her embracing her powers.
Xianniang especially is a worthy villain in 2020's Mulan because she serves as a warning to what Mulan could be if she used her newfound strengths to rise above men instead of accepting them as her equals. A huge theme of the film is this idea of balance and honor. The way she grew up, Mulan would create balance by being a wife rather than a warrior. But once she aspires to more, Xianniang represents that being accepted is not common when paradigms shift.
Mulan's 'Love Interest' Isn't Really A Love Interest
One of the most iconic aspects of the original Mulan is certainly Shang Li, the commander who falls in love with her during their time as soldiers. Shang Li is still a great character in the original and is as much part of the character's iconic status in LGBTQ culture as Mulan is. But the new version certainly highlights how the character is much more problematic when he is not her commanding officer and soldier like she is. In the movie, they split up Shang Li into two characters: Donnie Yen's Commander Tung and Yoson An's Honghui.
Honghui is the "love interest" to Mulan, as the pair form the deepest connection in the film and share a bit of sexual tension in one particular lake scene, but in the end, Mulan doesn't end up with him and there's no final kiss. There's an awkwardness to their relationship that senses hesitation in Mulan to pursue what's expected of her as a woman to be matched. Could it also leave room for her being a gay character? Maybe? What Mulan does well here (but up for debate) is it doesn't particularly assign Mulan's fate when it comes to her love life by the end because the story's happy ending is really about her coming into herself the most.
Okay, what do you think? Did you like the new Mulan or are you a purist to the classic? Vote in the poll below and stay tuned here on CinemaBlend for more on Mulan.
This poll is no longer available.
YA genre tribute. Horror May Queen. Word webslinger. All her writing should be read in Sarah Connor's Terminator 2 voice over.
Your Daily Blend of Entertainment News
Thank you for signing up to CinemaBlend. You will receive a verification email shortly.
There was a problem. Please refresh the page and try again.