6 Classic Bill And Ted References To Look Out For In Face The Music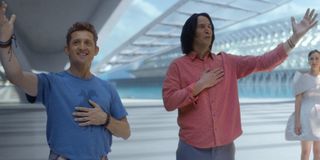 The following contains some spoilers for Bill and Ted Face the Music.
It's been more than 30 years since Bill and Ted first debuted on the big screen and had their Excellent Adventure. The duo has been through time, been to heaven and hell, and then done perhaps the most amazing thing of them all, grow up into adults. It's been a long and amazing road for Bill and Ted that finally has come to an end in Bill and Ted Face the Music, and for those who grew up with the slacker duo, it was a pretty fine farewell.
There's a lot to love in Bill and Ted Face the Music, especially for those people who know the previous films well. There are several great references to the previous films found throughout the new one. Some of them are quite obvious, and actually part of the story itself, others are a bit more obscure and things you might have missed. Here are some of our favorite Bill and Ted references in Face the Music.
Faith No More
There has never been a shortage of great musical references in the Bill and Ted series. The whole franchise is about two guys who play rock and roll, after all. The first time we see Bill and Ted in Bill and Ted's Excellent Adventure the pair have a long conversation that includes multiple references to Eddie Van Halen. And when we see the garage that Bill and Ted play in now, it includes a Van Halen poster, though that's maybe not the most interesting one. You can see in the image above that a Faith No More poster also hangs on the wall in the garage.
This is likely because Faith No More gets a hilarious shoutout at the beginning of Bill and Ted''s Bogus Journey. In the intro sequence, Rufus has used a phone booth time machine to bring several people from the past into a university classroom, one of whom is Faith No More guitarist Jim Martin, called James in the film because they're being formal. It's a brief appearance, but a memorable one.
"Greetings My Excellent Friends"
While it was great to see Bill S. Preston Esq. and Ted "Theodore" Logan again in Face the Music, there truly was something missing now that the great George Carlin is no longer with us. His role in the previous films as Rufus was small, but it was no less important, and so, it was great to see the new film take a moment to honor him.
Kristen Schaal plays Rufus' daughter Kelly, a character named after George Carlin's actual daughter, but beyond that, we see George himself in Bill and Ted Face the Music as a hologram of himself, in a replay of the moment he first meets Bill and Ted in the first movie. And he is, of course, inside a time-traveling phone booth, which then becomes a key part of the new movie.
Billie and Thea's Excellent Adventure
One of the biggest ways in which Bill and Ted Face the Music is a departure from the first two movies is that it deals with more major characters than just Bill and Ted. The two men have grown daughters in Bill's daughter Thea and Ted's daughter Billie. The two girls go on a journey of their own, which is going to look awfully familiar if you've, you know, seen the first two films.
The entire storyline of Billie and Thea is, basically an edited down version of what Bill and Ted did in the first two movies. First, the girls travel through time, borrowing various historical figures in order to bring them together to complete a task. Then, Billie and Thea are literally killed by a robot and they end up in hell, just like their dads did.
Station
One of the great returning characters in Bill and Ted Face the Music is William Sadler as Death. It's great to see the Wyld Stallyns bass player back once again, but it is a little sad that not every member of the band from Bill and Ted's Bogus Journey got to return. This includes the percussionists, a pair of aliens known collectively as Station.
The word "Station" is used several times throughout Bogus Journey as a sort of exaltation, long before we ever know where the word comes from. It's implied that everybody uses the word in the future, but nobody is using it in Face the Music. That is, until the end of the film, when, as Bill and Ted are about to head off into the infinite universe, rapper, and part-time quantum physicist, Kid Cudi, randomly drops a "Station!" on Bill and Ted. They respond in kind. It's nice to see the aliens were not forgotten.
Dancing Robots
The other members of Wyld Stallyns that don't get to rejoin the band in Bill and Ted Face the Music are Station's "most bodacious creations." The Bill and Ted robots built by Station, known collectively as "the Good Robot Us-es" became the backup dancers for the band, and, like Station themselves, are missing and it's not clear exactly where the went when the band broke up. However, they do get a sort of shout of their own, thanks to Dennis.
Dennis Caleb McCoy is the name of a robot sent from the future to kill Bill and Ted. However, he eventually realizes he's on the wrong side and joins them. When it comes time for the band to do their thing, Dennis wants to help. The only problem is, he can't play an instrument. He can, however, dance. He still never joins the group on stage, but he does get his groove on. Apparently there's just something about robots that makes them natural dancers.
69 Dudes
Finally, we have the most famous number in all of Bill and Ted lore. When the pair first come in contact with their time traveling selves in Bill and Ted's Excellent Adventure, they convince themselves that they are who they claim to be by thinking of a number. That number, because they are teenage boys, is 69. This number is, quite hilariously, where the journey for Bill and Ted truly begins.
It's also where the journey ends. Bill and Ted's final task to make everything come together is to use the phone booth to travel to all points in time simultaneously in order to get people playing the song together. When Ted begins reading off the phone number to travel into the infinite, the first two digits are, quite fittingly, six and nine.
Bill and Ted Face the Music is as satisfying an end to a movie trilogy as we've seen. It brings back these characters that so many love one more time, but it also gives them a send-off that is as touching as it is hilarious. Fans will appreciate little touches like these, but they don't overwhelm the story. The moments of nostalgia are there but Face the Music gets to be its own story.
CinemaBlend's resident theme park junkie and amateur Disney historian. Armchair Imagineer. Epcot Stan. Future Club 33 Member.