Warner Bros. Responds To Ray Fisher's DC Tweet, Says The Actor Isn't Cooperating With Justice League Investigation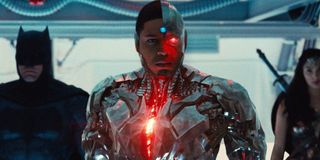 Justice League may be generating buzz due to the upcoming release of the Snyder Cut, but it's also garnered plenty of attention following accusations made by Cyborg actor Ray Fisher. Back in July, the actor accused Joss Whedon, who took over for Snyder after his departure, of behavior that he described as "gross" and "abusive." He also claimed that Whedon was allegedly enabled by DC Films' producers Jon Berg and Geoff Johns.This would eventually lead WarnerMedia to launch a third-party investigation into the claims.
Just the other day, Ray Fisher took to Twitter to say that DC Films President Walter Hamada reached out to him in an attempt to convince him to put most of the blame on Joss Whedon and Jon Berg and not Geoff Johns. However, WarnerMedia (via THR) is now refuting that claim:
The WarnerMedia spokesperson also alleged that Ray Fisher has not cooperated with the investigation and that "to date, Mr. Fisher has declined to speak to the investigator."
What makes this situation even more complicated is the fact that Ray Fisher is currently in negotiations to reprise his role as Cyborg for a cameo in Warner Bros. and DC's Flash movie. That project is set to begin shooting sometime next year.
Ray Fisher has been very vocal about the situation since first making the initial claims against Joss Whedon. In the weeks that followed, he also made more specific claims against Geoff Johns. In a social media post, Fisher claimed that Johns made a "thinly veiled threat" to his career when the actor and his agent apparently attempted to discuss problems with the powers that be.
Since Ray Fisher first made his claims, neither Geoff Johns nor Joss Whedon have spoken out publicly on the matter. However, Jon Berg did release a statement in which he shot down the actor's claims, calling them "categorically untrue." He also alleged that Fisher took issue with having to say Cyborg's signature catchphrase, "Booyaa."
At this point in time, Ray Fisher is limited in what he can say regarding his claims against Joss Whedon and the producers at DC Films. This is due to the fact that he's currently still being beholden to a Non-Disclosure Agreement. In terms of the investigation, WarnerMedia has yet to disclose any specific findings, and there is currently no indication as to how much longer said investigation will continue.
It remains to be seen what will come of the situation, but one thing that can be said is that this Justice League situation will likely continue to develop as time goes on.
Keep it here at CinemaBlend for more news from the world of movies and TV.
Covering superheroes, sci-fi, comedy, and almost anything else in film and TV. I eat more pizza than the Teenage Mutant Ninja Turtles.
Your Daily Blend of Entertainment News
Thank you for signing up to CinemaBlend. You will receive a verification email shortly.
There was a problem. Please refresh the page and try again.