The Flash Movie: What We Know So Far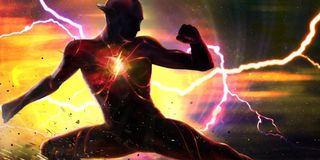 DC Comics fans have been waiting for a standalone The Flash movie for quite a while now. Warner Bros. announced plans for Ezra Miller to become the Scarlet Speedster in 2014, and he's had the chance to play the part in David Ayer's Suicide Squad and Zack Snyder's Batman v Superman: Dawn Of Justice and Justice League, but plans for a solo blockbuster have repeatedly shifted as changes have been made behind the scenes on the project. It's almost like Barry Allen himself keeps messing up the timeline. But now, at long last, it finally seems like the film is finally coming together.
Being based around of DC's most popular heroes, The Flash movie is one of the most highly anticipated DC Comics projects... but what exactly can we expect from it? When will it come out? Who is making it? What other characters can we expect to premiere? It's with the aim of answering all of those questions and more that we have put together this installment of our What We Know So Far guides – which gathers all of the official news that we've heard about the film in one convenient article. So let's jump in and set the record straight regarding what's happening withe the developing blockbuster!
What Is The Release Date For The Flash Movie?
Warner Bros. has officially announced that The Flash, barring any significant delays, will be arriving in theaters on November 4, 2022. It's one of seven live-action DC Comics adaptations that will be arriving between now and the end of 2022, and will be coming out in between the releases of the animated DC Super Pets and Aquaman 2 starring Jason Momoa. Part of the reason it is so far off is because Ezra Miller is contracted to appear in the third Fantastic Beast movie, which is planning to start filming in October 2020 and will be out in November 2021.
Are There Any Trailers Or Teasers For The Flash Movie?
As you can probably surmise given how far away the release date is, The Flash doesn't have a trailer yet. That being said, the film has given us at least a snippet of what to expect from it visually courtesy of concept art that was officially released during the DC Fandome event in August 2020. As can be seen at the top of this article and further down, the pieces not only reveal the new look of Barry Allen's supersuit for the solo film, but also a very important co-star (more on that in a bit).
What Is The Flash Movie's Rating?
The Motion Picture Association of America (MPAA) won't actual deliver a rating for the solo Flash movie until the movie exists in a form that is ready to play in theaters – but it's still pretty easy to predict how the feature is going to be graded. It's true that DC Comics has been making interesting ventures into R-rated territory in recent years, specifically with the releases of both Todd Phillips' Joker and Cathy Yan's Birds Of Prey (And The Fantabulous Emancipation Of One Harley Quinn), but given that the Scarlet Speedster is a fun, kid-friendly hero, it's hard to imagine the filmmakers and the studio developing the film with anything other than a PG-13 rating. Of course, if the production decides to throw a serious curve ball with the approach in regards to the rating, we will update this section.
Who Is Directing The Flash Movie?
Strap in, because this is a long journey. In 2015, Abraham Lincoln: Vampire Hunter/Pride and Prejudice and Zombies author Seth Grahame-Smith was set to make his directorial debut with The Flash. However, in 2016 Warner Bros. cut Grahame-Smith's involvement with the project, both citing creative differences as the reason for his departure. Eventually the filmmaker was replaced by Dope director Rick Famuyiwa, who actually took the Hall H stage at San Diego Comic-Con 2016 to discuss his work on the film, but by the end of October in 2016, he too also exited the film.
After a stint in limbo, the project got revitalized in 2018 when John Francis Daley and Jonathan Goldstein, who previously wrote the screenplay for Spider-Man: Homecoming, stepped in to both helm the film and develop the script. Unfortunately their involvement led to creative clashes with Ezra Miller, who began developing a competing screenplay (more on that in a minute), and eventually they too left the film. This left a void for IT and IT: Chapter Two's Andy Muschietti to step in, and as of this article's most recent publication he remains the guy in charge of the project. Muschietti was on hand at the aforementioned virtual DC Fandome event to promote his work on the developing movie, and at present it very much looks like he will be the filmmaker who will successfully carry The Flash feature over the finish line (knock on wood).
Who Is The Screenwriter For The Flash Movie?
Much like the situation with the director's chair, Warner Bros. journey to create a proper script for a Flash solo movie has been an arduous one. Years ago The Flash CW TV series and Arrowverse co-creators Greg Berlanti and Marc Guggenheim wrote a version of The Flash movie, but circumstances behind the scenes changed and the studio opted to move forward with a treatment from Phil Lord and Chris Miller that director Seth Grahame-Smith was going to turn into a script. Even when Grahame-Smith left there was some consideration to keep his script in play, but in 2017 Joby Harold, who penned King Arthur: Legend of the Sword signed on to do script rewrites. Then when circumstances behind the scenes changed again and John Francis Daley and Jonathan Goldstein were brought on board, they reportedly wanted to take a more comedic approach to The Flash movie, but Ezra Miller wanted the film to take a darker approach – which is what led him to develop his own script with comic book writer Grant Morrison.
When Andy Muschietti joined on as director, Christina Hodson joined as screenwriter. Hodson previously earned acclaim and attention for the work she did on the Transformers spin-off movie Bumblebee, and that in turn led to her first job working within the DC Extended Universe, as she also wrote the script for Birds Of Prey (And The Fantabulous Emancipation Of One Harley Quinn).
What Is The Story Of The Flash Movie?
At the 2017 San Diego Comic Con, DC Comics announced The Flash movie would follow the "Flashpoint" storyline – based on the hit crossover event from the comics in 2011. In the source material, Barry makes the decision to travel back in time so that he can try and prevent his mother's murder, and while he winds up being successful, the Butterfly Effect/Chaos Theory results in the future being totally altered (for example, Bruce Wayne winds up getting killed in an alley behind a movie theater, and it results in Thomas Wayne becoming Batman while Martha Wayne goes insane and becomes The Joker). Unfortunately at this time we know very little about how the movie version is going to be different or what kind of time travel antics will be involved, but at the very least we do know that the project will have a sizable role for the Dark Knight to play... and not just one Dark Knight either!
The Characters And Cast Of The Flash Solo Movie
The cast of The Flash is still coming together, but already the project has some fascinating characters and actors involved. Some of them are faces we've already seen in the DC Extended Universe, some of them are being introduced for the first time, and some are arriving straight from left field. Let's take a closer look!
Barry Allen/The Flash (Ezra Miller)
Despite all of the delays, and the many directors/screenwriter changes, Ezra Miller has been holding on tightly when it comes The Flash solo movie, and soon it looks like all of his patience will pay off. Following up on his appearances in Batman v Superman: Dawn of Justice, Suicide Squad and Justice League (as well as his brief Arrowverse cameo in 2019), the blockbuster will bring audiences into the life and world of Barry Allen... and watch as he manages to totally upend it with his time travel antics within the Flashpoint plot.
Iris West (Kiersey Clemons)
Rick Famuyiwa first hired Kiersey Clemons to play Iris West when he was set to direct The Flash, but her journey playing the character has been a bit... complicated. The character, who is the love interest for Barry Allen and a reporter for the Central City Picture News, was originally meant to make her big screen debut in Zack Snyder's Justice League, but her role wound up being entirely cut out of the theatrical cut. That being said, we'll actually still be able to see that particular performance before the Flash solo movie is released, as it's been confirmed that the scenes that Clemons shot will be included in the Justice League miniseries that Zack Snyder is cutting for HBO Max. It's not presently clear if the character's role in The Flash will be affected continuity-wise by the previous performance, so we'll just have to wait and find out what the deal is there, but it has been confirmed she will be back.
Henry Allen (?)
Billy Crudup made his first appearance as Henry Allen in Justice League, introducing movie audiences to a key element of The Flash's origin story. As fans know, Henry is in prison because when Barry was a kid his father was falsely accused of killing his wife, Nora, and was convicted and sentenced. Barry grew up to become a forensic investigator with the police in hopes of someday being able to exonerate his dad, but the Flashpoint storyline will obviously see the hero trying to take a different tactic so that Henry can be a free man again. Unfortunately, Crudup won't be reprising the role due to scheduling conflicts. It's presently unknown who is being considered as a replacement.
Nora Allen (Maribel Verdú)
Given the Flashpoint storyline, it was really only a matter of time before the DC Extended Universe added an actress to play Barry Allen's mother, Nora Allen, and it's been announced that part will ne played in the Flash movie by Maribel Verdu. While this will be her first time playing a role in a big studio blockbuster, her filmography is peppered with impressive titles, including Y tu mamá también and Pan's Labyrinth.
Bruce Wayne/Batman (Ben Affleck)
In January 2019, following the disappointing run of Batman v Superman: Dawn of Justice, Suicide Squad and Justice League, Ben Affleck made the announcement that his time playing Bruce Wayne a.k.a. Batman in the DC Extended Universe was coming to an end. However, recent developments with The Flash solo movie have caused that to change, as it has now been officially confirmed that Affleck will once again play the Caped Crusader in the 2022 blockbuster. Fans will remember that a certain kind of bond was created between Flash and Batman in Justice League, as the latter recruited the former for the titular team, and it seems their relationship will grow even closer in the upcoming movie, as we have learned that it will be Bruce Wayne who winds up designing Barry Allen's new costume (featured in concept art at the top of this article and in the image above).
Bruce Wayne/Batman (Michael Keaton)
What's more exciting than one Batman appearing in the Flash solo movie? How about two Batmen?! Well, that's exactly what it seems that the production will be delivering. While we don't know all of the details exactly, it was first reported in June 2020 that Michael Keaton will be returning to the role of Bruce Wayne in The Flash for the first time since he donned the cape and cowl in 1992's Batman Returns. Will his appearance be caused by Barry Allen messing with the timeline in the Flashpoint plot? That's simply speculation for now, but it feels like a pretty safe guess.
Supergirl (Sasha Calle)
While we don't yet know exactly how she will fit into the plot of The Flash movie, one incredibly exciting aspect of the in-the-works blockbuster is that it will debut the DC Extended Universe's version of Supergirl. The Kryptonian cousin of Superman will be played by Sasha Calle, and it will not only be her first big studio film, but her first feature ever. While the role will almost surely change her career, the actor is presently best known for playing Lola Rosales on the soap opera The Young And The Restless. The announcement was made by Andy Muschietti in mid-February 2021, with the director posting a video of a call telling Calle that she landed teh role.
Where Can You Stream Other DC Films?
If you simply can't contain all of your excitement for the release of The Flash solo film, the good news is that all of Ezra Miller's previous appearances as Barry Allen/The Flash are currently available to stream online. Those of you who have subscriptions to HBO Max will find that Batman v Superman: Dawn of Justice, Suicide Squad, and Justice League are all currently available to watch with just a few clicks of a button. And if you don't currently have access to the streaming service, you can always find all of the blockbusters to purchase at various digital retailers and on 4K, Blu-ray, and DVD.
We're more anxious to see the Flash movie, and while 2022 may seem like a long wait it will probably be here before you know it. Be sure to keep coming back to this feature in the coming months as we continue to update it with all of the new information that we learn about the project, and to see what other films are set to arrive in the next few years from the world of DC Comics, be sure to check out our Upcoming DC Movies guide.
Your Daily Blend of Entertainment News
Assistant Managing Editor
NJ native who calls LA home and lives in a Dreamatorium. A decade-plus CinemaBlend veteran who is endlessly enthusiastic about the career he's dreamt of since seventh grade.
Your Daily Blend of Entertainment News
Thank you for signing up to CinemaBlend. You will receive a verification email shortly.
There was a problem. Please refresh the page and try again.