Christopher Nolan's Favorite Tenet Shot Is A 'Throwaway' Shot Made Possible By New IMAX Cameras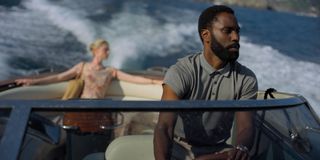 After months of delays, Christopher Nolan's Tenet has finally arrived in theaters, and anxious fans are now feasting their eyes on the visionary director's latest cinematic venture. As you can expect, the film is a visual spectacle that showcases Nolan's talents as a filmmaker. But with so many incredible sights within the film, one has to wonder which shot Nolan likes the most. Well, it turns out his favorite is actually a "throwaway" shot that was produced with the help of new IMAX cameras.
While speaking with our own ReelBlend podcast, Christopher Nolan went into great depth when it came to the technical aspects of creating Tenet. And while speaking on the "throwaway" shot specifically, he recalled how the shot in question occurred during a scene that takes place on a boat. And Nolan's crew came up with a creative way to rig up the 15 perf 70mm IMAXcamera in order to get the desired shot:
From Batman gliding across the night sky of Gotham City to an entire city folding into itself, Christopher Nolan has contributed truly extraordinary shots to cinematic history. With this in mind, it may be a bit surprising to some that his favorite shot from Tenet wasn't a major one. The director spoke at length about his work on the film with ReelBlend. You can listen to the entire conversation with him and John David Washington down below:
You have to admire the ingenuity of Christopher Nolan and his collaborators to make that shot a reality. It may not have been completely essential to the film's story, but it's hard not to appreciate Nolan's appreciation for the execution of a shot.
With such advanced IMAX cameras, you can imagine that Nolan wanted to push the limits of the technology when it came to Tenet. This is probably most true for the sequences that involve time inversion, and many would agree that these scenes were pretty impressive.
It's very likely that viewers still have plenty of story-related questions regarding Tenet but, at the very least, they know now how Christopher Nolan pulled off a specific technical aspect of the film.
Tenet is now playing in open theaters across the U.S.
Covering superheroes, sci-fi, comedy, and almost anything else in film and TV. I eat more pizza than the Teenage Mutant Ninja Turtles.