Why Tom Holland Was 'Nervous And Scared' When He Arrived On The Set Of The Devil All The Time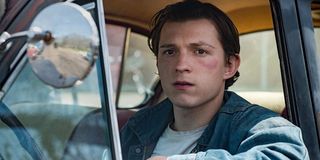 During his budding career, Tom Holland has gone from a relatively unknown actor to a Hollywood superstar after being cast as Marvel's Spider-Man for the MCU. But in his off time as Spider-Man, he's made some very interesting project choices, including the dark and dramatic Netflix film The Devil All The Time, which he said he felt "nervous and scared" before arriving on the set.
Of course, most actors likely get the jitters before taking on any project. But it sounds like The Devil All The Time, a dark movie about a young man living in a corrupt backwoods town, was a wildly different movie for Tom Holland-- demanding more from him than some of his other roles. Here's why he was nervous and scared about that taking on the role,
Yeah, that certainly sounds heavy. Though Tom Holland has dived into dramatic and serious movies before, like The Last City of Z and In The Heart Of The Sea, he's likely most used to playing the affable Peter Parker, a totally different headspace. As such Tom Holland's comments about The Devil All The Time (via Variety) make a great deal of sense.
The Devil All The Time is also arguably the darkest movie Tom Holland has ever been a part of. After watching the disturbing trailer, you get the sense that you're not going to walk away from it with a happy feeling, far from it. Let alone working on the film.
Directed by Antonio Campos and adapted from the novel by Donald Ray Pollock, The Devil All The Time follows Arvin Russell (Tom Holland) in a backwoods town in Ohio after World War II. He eventually finds himself fighting against a slew of corrupt characters played by Robert Pattinson, Sebastian Stan, and Jason Clarke. But Holland's character isn't necessarily innocent in the story, which Tom Holland seems to admit when describing his character as "complicated" and "dark."
This movie doesn't look like it will be a one-off foray into darker and more dramatic movies for Tom Holland. He's already filmed another serious role in the Russo Brother's movie Cherry, where he looks totally unrecognizable. He's also hopping into the fray in the potentially action-packed adaptation of the video game Uncharted, playing the lead role of Nathan Drake.
But, if you're intrigued about Tom Holland's performance in The Devil All The Time, you can catch it Wednesday, September 16th on Netflix.
Your Daily Blend of Entertainment News