Cuties Backlash Actually Caused A Bunch Of People To Cancel Netflix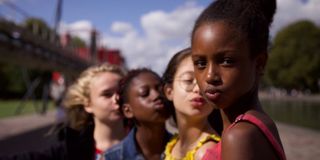 A little less than a month ago, Netflix found itself in hot water after releasing a promotional poster for the movie Cuties (also titled Mignonnes), which is about a young girl who joins a group of dancers at school known as "The Cuties." The film has been criticized for its sexualized portrayal of children, and now, after a social media campaign on Twitter with #CancelNetflix, it looks like a bunch of people followed through and canceled their Netflix subscriptions.
On September 10, the day after Cuties' release, Netflix's subscriber rate rose, but then on September 12, the service saw a cancellation rate eight times higher than average, according to Variety. It's unknown at this point if the social media campaign to cancel Netflix will continue to increase these numbers.
Of course, people cancel their Netflix subscriptions all the time and Netflix has not provided the number of subscribers that have canceled. That said, we do know that Netflix garnered 193 million paid subscribers at the end of June. Reportedly, the pandemic has caused record sign-ups to the service.
Though Netflix agreed that its poster for the film was inappropriate and quickly removed it, the company defended Cuties as a Sundance Film Festival award-winning movie that is against the sexualization of children. As of now, Cuties is still available (opens in new tab) on Netflix.
Cuties was directed and written by Maïmouna Doucouré, and is about an 11-year-old girl named Amy who joins the aforementioned eponymous group of dancers in an attempt to rebel against what she believes is her Muslim family's oppressive traditions. In the movie, Amy and the other dancers perform provocative dance moves and the young characters are often put into sexual situations.
Director Maïmouna Doucouré has also tried to defend her film, saying it's social commentary on the sexualization of children, and that she believes it highlights the need to find solutions for our culture's "hyper-sexualization of children" through social media.
Subsequently, even though she had no involvement with the marketing aspect of Cuties, Maïmouna Doucouré has received death threats. Reportedly she was just as surprised by the inappropriate artwork. In her words:
Thor: Ragnarok's Tessa Thompson has also come to Cuties' defense. She saw the film when it premiered at the Sundance Film Festival and was disappointed by the marketing of the movie. Thompson echoed Netflix and the director's stance that the film is against the sexualization of children.
Though Netflix subscribers have been canceling their subscriptions, it has yet to be seen if this will make a huge impact on the streaming service. Stay tuned to CinemaBlend as this story develops.
Your Daily Blend of Entertainment News
Your Daily Blend of Entertainment News
Thank you for signing up to CinemaBlend. You will receive a verification email shortly.
There was a problem. Please refresh the page and try again.