Lin Manuel-Miranda And Hamilton's Cast Have Reworked Lyrics To Convince People To Vote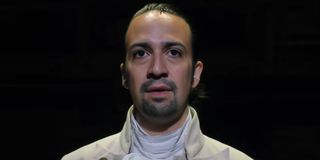 Hamilton is, at heart, the story about the founding of the United States, in all its strengths and weaknesses. So it makes sense that those who are a part of the HamFam -- the cast, crew and fans of the award-winning musical -- would have an interest in the upcoming presidential election. Now, some cast members, including Hamilton's creator Lin Manuel-Miranda, have reworked some of the show's most memorable lyrics to encourage fans to vote.
The Hamilton team partnered with the nonprofit organization When We All Vote to create a medley of popular Hamilton songs designed to educate fans about the upcoming election. A video posted to YouTube features several current cast members and begins by repurposing narrator Aaron Burr's legendary opening lines from the musical. Deon'te Goodman asks, "How does a system work with democratically elected leaders chosen every four years by well-trusted procedures so everyone can help fulfill the founding fathers' vision if people don't take part in the decision?"
The rewritten song lyrics point out that 100 million people elected not to vote in the 2016 presidential election and that the election was decided by a difference of approximately 80,000 votes across three states.
The Hamilton cast utilizes a variety of different narrative devices to get the point across -- including taking on the part of your average apathetic voter. Instead of singing the infamous lines, "Alexander Hamilton, my name is Alexander Hamilton," current Hamilton cast member Justice Moore sits on her couch and looks bored while she sings, "Ordinary citizen, I'm just an ordinary citizen, I'm not political, I've never been, and I don't vote."
Other cast members then offer advice as a counterpoint to her reluctance to participate in the electoral process. Miguel Cervantes -- Broadway's current Alexander Hamilton (at least, when Broadway shows can be performed again) -- raps that many states allow for online voter registration.
Tamar Greene follows up with advice on voting early and in-person -- or by mailing in a ballot, if you're concerned about venturing out to a crowded place during the COVID-19 pandemic. He's then backed up by an ensemble of actors encouraging "Vote by mail!" to the tune of Marquis de Lafayette's "Guns and Ships."
The video ends with the cast addressing common myths and questions about the election, including those about voter fraud and how long it will take for us to get results when so many Americans will be mailing in their ballots. And while the original Broadway cast is largely absent from the medley, Lin Manuel-Miranda appears at the end to ask fans to make their voices be heard -- and reminds us the importance of not throwing away our shot. You can watch the Hamilton medley here:
When We All Vote has a designated page for the Hamilton cast's initiative, where you can learn more about registering to vote and what to do to make sure your vote is counted.
Your Daily Blend of Entertainment News