Hamilton's Leslie Odom Jr. Discusses The 'Upside' Of The Movie Premiering on Disney+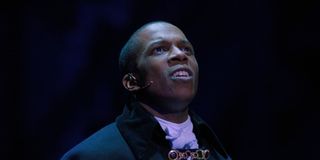 Hamilton made history when it premiered on Broadway in 2015. Its popularity made its inevitable transformation into a movie a seeming inevitability -- however, the COVID-19 pandemic caused plans for that movie to shift. While Hamilton was originally intended for a theatrical release, Leslie Odom Jr. thinks there are a few upsides of having the film premiere on Disney+.
Five years later, Hamilton is still one of the most talked about musicals on the planet. Since it hit Disney+ over the Fourth of July weekend, a whole new wave of Hamilfans have fallen in love. Leslie Odom Jr., who originated the role of narrator/villain Aaron Burr and who plays him in the film, told Entertainment Weekly that as far as he's concerned, Hamilton's Disney+ premiere has worked out well despite the change of plans:
The actor also noted that Hamilton's arrival on Disney+ marked a new era for the musical:
Shortly after Hamilton hit the streaming platform, Leslie Odom Jr. opened up about how meaningful it was to him that it would be accessible to a wider audience. Most people don't ever get to see a performance on Broadway -- which means only a fraction of fans who found Hamilton through clips on the internet or the original cast recording were able to see it on stage before it arrived on Disney+.
It's easy to see Leslie Odom Jr.'s perspective. While a theatrical release of Hamilton could have been a fun way for fans to get together and enjoy it as a group, its wider availability on screens in homes around the world is definitely a win.
Your Daily Blend of Entertainment News