Disney+'s Hamilton Resulted In A Major Payday For Lin-Manuel Miranda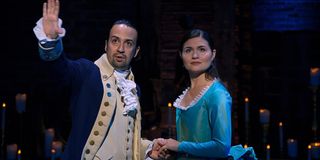 It's no secret that Hamilton, Lin-Manuel Miranda's smash Broadway hit, has become another big success story for Disney+ when it landed on the streaming service in July. It garnered rave reviews, a larger audience, and repeat viewings from fans. Now, it looks like all that success has resulted in a big payday for Lin-Manuel Miranda.
Forbes just released their Highest-Paid Actors of 2020 list and while it's not altogether surprising to hear huge stars like Dwayne Johnson and Ben Affleck have made the top ten list, you might be surprised to hear Lin-Manuel Miranda did, too. Thanks to his deal selling Hamilton to Disney, he sits at number 7 and made a cool $45.5 million.
Considering Hamilton is the kind of genius Broadway musical that becomes a mass cultural phenomenon that only comes around every so often, I'd say Lin-Manuel Miranda's payday is well-deserved. After all, it's not like just anyone can crank out all those awesome couplets. He starred and wrote in the show, definitely earning some cash in the process.
Lin-Manuel Miranda worked fairly hard writing the lyrics and music for Hamilton; it wasn't easy. In the Hamilton documentary, Hamilton: History Has Its Eyes On You, Lin-Manuel Miranda described how Hamilton's final moments were the hardest to write and underwent a ton of revisions. He also leads the cast as the title character.
Though Disney reportedly spent a fortune on acquiring the rights to Hamilton, lining Lin-Manuel Miranda's pockets in the process, it sounds like it was money well-spent. Their Disney+ app, for one, saw a huge spike in downloads, which also likely meant subscriptions to the service.
To make the Tony Award-winning Broadway musical a reality, Disney filmed Hamilton over the course of three days back in 2016. Naturally, trying to capture a Broadway musical on film and still make it come alive is a huge challenge. Yet, most would agree that director Thomas Kail pulled it off and even captured detail that took Lin-Manuel Miranda by surprise.
Of course, Lin-Manuel Miranda's deal with Disney won't be a one and done situation. The composer/actor has continued to build a working relationship with Disney for years now on projects like Mary Poppins Returns and Moana. He's also rumored to be working on a movie involving a Latina princess. With Hamilton now behind him, Lin-Manuel Miranda is also expected to see another big payday for his work on In the Heights. He wrote the lyrics and music for the Broadway musical and will see a payday when the In the Heights movie releases next year.
Clearly, anyone who has seen Lin-Manuel Miranda's work can see he's an incredibly talented artist. With such a bright star and hopeful future, I wouldn't be surprised if he continued to climb higher on Forbes' list of Highest-Paid actors.
Your Daily Blend of Entertainment News