Ben Affleck Reveals His Concerns For Movie Theaters Post-COVID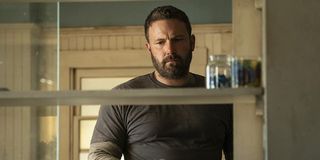 Ben Affleck has long been a filmmaker living in two worlds. Having worked on big blockbuster films like Daredevil and Batman v Superman: Dawn of Justice and plenty of mid-budget dramas, he knows the trials of crafting both. Now, it looks like he has some concerns for movies theaters post-COVID, with many of those worries aimed at the mid-budget movie.
With movie theaters being hurt right now due to current events, many have shared their concerns about the future of theaters. However, Ben Affleck revealed to EW that some of his primary concerns are more specifically about what the future of the mid-budget movie will look like at movie theaters, as he worries that they might all just go to streaming services:
He's not wrong to be worried about the mid-budget drama at the box office. Ben Affleck himself has been affected by this first-hand with The Way Back being one of those mid-budget dramas to receive early digital releases due to the current circumstances.
With such a tumultuous market, Ben Affleck laid out what he thinks will likely result once it's all is said and done. He went on to say:
Believe it or not, Hollywood titans Steven Spielberg and George Lucas both theorized this kind of outcome around eight years ago. Spielberg said that with the advent of the mega-blockbuster, smaller "really interesting, deeply personal — and even maybe historical — projects" will struggle to find funding.
As for George Lucas, he predicted that movies that end up on VOD and streaming will be cheap and the event movies at the theater will cost Broadway-like prices, like $50 to maybe $150.
For Ben Affleck's part, he's going to continue playing in both worlds. While it seemed like his days as Batman were over, it was recently announced that he would return once again as the Caped Crusader in The Flash.
Overall though, he's got his heart set on the mid-budget drama. As of right now, he has a slew of mid-budget movie projects that he will either direct and/or star in. For instance, he's set to write, direct, and star in World War II drama Ghost Army and star in the drama The Last Duel with Matt Damon and Adam Driver.
But what do you think about Ben Affleck's sentiments? Do you agree or disagree? Let us know in the comments.
Your Daily Blend of Entertainment News
Thank you for signing up to CinemaBlend. You will receive a verification email shortly.
There was a problem. Please refresh the page and try again.